Special Focus: USA
USA Defence Budget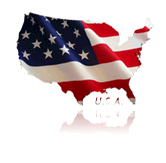 On February 2012 US Department of Defense (DoD) went through a complicated process to establish and finalize its budget for the financial year 2013. According to it the $525.4 billion base budget provides a reduction of $5.2 billion from the financial year 2012 budget. In this amount we should add the incremental costs of Overseas Contingency Operations (OCO), including ongoing efforts in Afghanistan and support for the Office of Security Cooperation in Iraq, which are funded separately in the financial year 2013 budget and amount at $88.5 billion, a decrease of $26.6 billion from the financial year 2012 enacted level.
++ more


send it to a friend
USA Arms Sales

The volume of international transfers of major conventional weapons in 2006-10 was 24% higher than in 2001-2005, continuing the upward trend. The United States and Russia were the largest exporters of major conventional weapons. This trend continued throughout 2011 and on December 3, the U.S. Defense Security Cooperation Agency (DSCA) announced that foreign military sales overseen by them passed the $30 billion mark for the fourth consecutive year, with the fiscal year 2011 total reaching $34.8 billion. Sales under the government-to-government Foreign Military Sales (FMS) Program were $28.3 billion, while sales executed by non-FMS cases managed under various security cooperation authorities were $6.5 billion.
++ more


send it to a friend



Epicos "Industrial Cooperation and Offset Projects"


Epicos "Industrial Cooperation and Offset Projects" provides a unique set of online tools enabling the structure, identification and implementation of comprehensive Offsets programs, through a searchable database. By introducing different offset projects and ideas proposed by local A&D industry it ensures the optimum cost for Prime Contractors and reassures that the priorities of local industry are fully met...
++ more

send it to a friend
UDP communication optimization for inter-UAV communications in modern Network Centric Warfare operations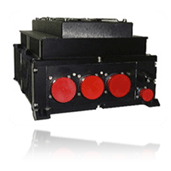 A company excelling in the design and development of advanced real time data exchange solutions for inter-UAV communication requirements is proposing the installation of a new UDP smart gateway design providing hard real time and secure data exchange between application machines. The proposed system architecture supports specific requirements including: time-critical and mission-critical applications, limited bandwidth, hot redundancy and deterministic behavior. The system will fully support the new concepts for advanced Network Centric Warfare (NCW) operations using unmanned platforms.

For Further Information Contact our ICO Department
send it to a friend
Development of mission critical rugged displays 8xs/10xs for military and tactical vehicles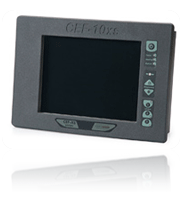 A company that designs and produces industrial computers and displays for use in the most demanding environments and also designs industrial displays and produces neural network software and automation solutions is proposing the provision of CEF 8xs/10xs type military displays to be used in an offset project or in an upgrade program.


For Further Information Contact our ICO Department
send it to a friend
Epicos- Amazon
Economics of War and Peace: Economic, Legal, and Political Perspectives (Contributions to Conflict Management, Peace Economics and Development) ... Management Peace Economics and Development), by Benjamin E. Goldsmith, Jurgen Brauer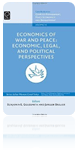 "Economics of War and Peace: Economic, Legal, and Political Perspectives" brings together recent, cutting-edge research on economic factors affecting peace and war. This important area of continuing research was the focus of an international conference held at the University of Sydney in June 2009 and these chapters are partly drawn from among the best contributions to that meeting. The book weaves together threads from a number of themes in current research including new theoretical perspectives on the economic foundations of peace, violence and war within countries, connections between international trade and inter-state conflict, and the role of legal/institutional factors in international and internal conflict.


The Global Arms Trade: A Handbook, by Andrew T. H. Tan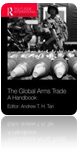 The Global Arms Trade is a timely, comprehensive and in-depth study of this topic, a phenomenon which has continued to flourish despite the end of the Cold War and has been revived till the middle of the first decade of the new millenium. It provides a clear description and analysis of the demand for, and supply of, modern weapons systems, and assesses key issues of concern. This book will be especially useful to scholars, policy analysts, those in the arms industry, defence professionals, students of international relations and security studies, media professionals, government officials, and those generally interested in the arms trade.




Contact the Editor:

Vasileios Kyriazis
e-mail: v-kyriazis@epicos.com


Contact Epicos sales Department:

Michael Karakatsanis
e-mail: m-kay@epicos.com

Download the full newsletter in a PDF format
EPICOS NEWSROOM
Pakistan receives US surveillance aircraft
The Pakistani navy took delivery Tuesday of two state-of-the-art, US-made surveillance aircraft nine months after Islamist militants destroyed two similar planes, officials said. ++ more

Singapore raises defence spending by 4.3%
Singapore will increase its defence budget by 4.3 percent over last year, data in the government's annual budget released Friday showed. ++ more
Putin vows to boost Russian army ahead of vote
Russian strongman Vladimir Putin vowed Monday that Russia would strengthen its military might and offer an "asymmetrical and effective" response to the deployment of a NATO missile shield. ++ more
PIA orders five Boeing 777s, option for five more
US aircraft manufacturer Boeing announced Monday that Pakistan International Airlines has ordered five of its 777-300ER long-range passenger jets, with an option for five more.
++ more
Philippines aiming to boost Manila airport
The Philippine government said Tuesday it was aiming to boost passenger capacity at its congested Manila airport next year with the long-awaited completion of a controversial terminal. ++ more
EPICOS EVENTS
Military Vehicles Exhibition & Conference: The Largest Stand-Alone Military Vehicles Event in the World
Today's fighting forces need a fleet of vehicles that can meet the rapidly evolving support requirements for strategic missions. The priority is to provide a variety of added capabilities while significantly decreasing costs and increasing efficiencies. ++ more