Jun 30, 2017
SOURCE: Harris Corporation
Lockheed Martin Recognizes Harris Corporation as Outstanding Supplier of F-35 and F-22 Carriage and Release Systems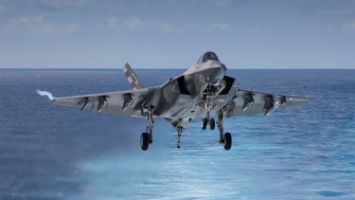 Harris Corporation (NYSE:HRS) has been designated a top-performing supplier by Lockheed Martin for its work on carriage and release systems for F-35 and F-22 fighter jets. The award acknowledges the company's excellent on-time delivery record and superior quality rating of more than 98 percent.
"This award recognizes suppliers holding a 98 percent on-time delivery rating with a 98 percent quality rating. Their role with us makes an impact far beyond performance – it ensures the ability to offer safety and security to customers across the globe," said Janet Duffey, vice president, Aeronautics Supply Chain Management. "As a leader in engineering, production and sustainment of aircraft, operational excellence and supplier performance are key tenants of our business model."
Harris has a 30-plus year track record of supplying advanced pneumatic suspension and release systems for the F-22 and F-35 programs – including the LAU-142/A, BRU-67/A and BRU-68/A. These are the world's first pneumatic systems for this style of aircraft, and were specifically designed and developed for low maintenance, maximum performance and reliability.
"We are honored to receive this Lockheed Martin supplier award, which recognizes the top two percent of their 1,400 suppliers," said Ed Zoiss, president, Harris Electronic Systems. "The award highlights our legacy of avionics innovation and affordability and recognizes our employees' significant contributions to the success of critical programs such as the F-22 and F-35."
Highlights
Exceeded 98 percent on-time delivery and quality for systems used on F-35 and F-22
Provides state-of-the-art pneumatic systems with minimal lifecycle cost maintenance
Continues company's excellent track record of delivery, quality, and cost savings
For Further Information Click Here