Sep 22, 2017
SOURCE: Terma
The head of the F-35 Joint Program Office visited Terma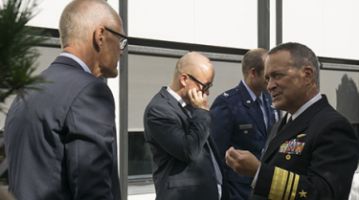 On Thursday, 21 September 2017, Vice Admiral Mathias W. Winter, Program Executive Officer, F-35 Lightning II Joint Program Office (JPO) visited Terma
The meeting was hosted by Jens Maaløe, President & CEO, Terma A/S and Steve Williams, President & CEO, Terma North America, Inc.
In May 2017, Admiral Winter took up the position as Program Executive Officer for the F-35 Lightning II Joint Program Office, the Department of Defense's agency responsible for developing and acquiring the F-35A/B/C, the next-generation strike aircraft weapon system for the Navy, Air Force, Marines, and many allied nations.
At the four-hour meeting at Terma's facilities in Herlev/Copenhagen, a number of aspects within the F-35 program were discussed.
"As a Danish key supplier of structural parts and electronics for the F-35, it is of great importance for Terma to meet Admiral Winter and discuss a number of topics in relation to Denmark's future combat aircraft," says Jens Maaløe, President & CEO of Terma, and continues: "The meeting took place in an openhearted atmosphere, and we had a very constructive dialog."
Terma has been involved in the F-35 program since 2002 and supplies more than 70 different structural and electronic parts from its Grenaa and Lystrup plants for all three variants of the F-35.
At the meeting with Admiral Winter, General Major Henrik R. Lundstein, Director of the F-35 Fighter Program, the Danish Acquisition and Logistics Organization, and Paul Burns, F-35 Global Procurement & Supply Chain Director, BAE Systems, also participated.
View source version on Terma:
https://www.terma.com/press/news-2017/the-head-of-the-f-35-joint-program-office-visited-terma/