Apr 16, 2019
SOURCE: Meggitt
Meggitt PLC and OEMServices sign a Long Term Agreement for the supply of aftermarket services to the Middle East, Africa and Russia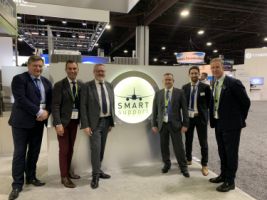 Meggitt PLC, a leading international company specialising in high performance components for the aerospace market, has signed a Long Term Agreement (LTA) with OEMServices to supply component aftermarket support to operators in the Middle East, Africa and Russia/CIS. OEMServices is a market leader in providing component, logistic and trading services to airlines and original equipment manufacturers worldwide.
Under the agreement, OEMServices will act as an integrated service provider for Meggitt aftermarket products within the named regions, and will also operate a one-stop shop for maintenance, repair and overhaul, using dedicated global service centres with a 24/7 AOG hotline, committed to responding to operator needs within the hour.
OEMServices' considerable experience of serving operators in these markets will ensure that Meggitt OE-approved solutions are immediately available, optimising repair turn-around times and minimising unscheduled maintenance.
Adrian Plevin, Senior Vice President Sales & Marketing of Meggitt's Services & Support division, stated: "Our partnership with OEMServices strengthens our levels of customer care. Thanks to Didier Granger, President of OEMServices, and his team we have extended our global reach and Meggitt original equipment solutions are available to operators worldwide, with the guaranteed service levels our customers expect."
"This agreement is a new and important step in the long term relationship between Meggitt and OEMServices, which started initially with logistic support, and grew into global integrated component services support. Developing important OEM partnerships is part of our DNA. This agreement with Meggitt is a key milestone of our mutual understanding and a great new opportunity to develop our synergies." said Didier.
Enquiries
Diane Whitworth
Communications Manager
Meggitt PLC
Tel: +44 (0) 7395 788 748
Email: press.office@meggitt.com
About Meggitt PLC
Headquartered in the United Kingdom, this international group operates in North America, Europe and Asia. Known for its specialised extreme environment engineering, Meggitt is a world leader in aerospace, defence and energy. Meggitt employs more than 11,000 people at over 40 manufacturing facilities and regional offices worldwide.
About Services & Support
Meggitt's Services & Support division is focused on providing a single point of contact for our global aftermarket customers, capable of supplying just in time, reliable quality product across the Meggitt aviation portfolio. With three regional hubs and over 500 employees, Services & Support is dedicated to keeping Meggitt's global customers airborne and operational, offering full-service lifecycle solutions. For more information please visit www.mymeggittsupport.com.
About OEMServices
OEMServices is a leader in component, logistic and trading services for airlines and Original Equipment Manufacturers (OEMs). Founded by four major Original Equipment Manufacturers (OEMs): Diehl Aerospace, Liebherr Aerospace, Thales Avionics and Safran, OEMServices was created to offer airlines full support integrated services by regrouping the capabilities, assets and expertise of multiple OEMs. Headquartered at Paris CDG airport, supported by major hubs in Europe, the USA, the Middle East and Asia, and integrating more than 60 OEM-partners, OEMServices is able to support its customers anywhere, 24/7.
For more information on OEMServices and its AOG services, visit www.oemservices.aero
View source version on Meggitt:
https://www.meggitt.com/news/meggitt-plc-and-oemservices-sign-a-long-term-agreement/