May 24, 2019
SOURCE: Heli-One
Heli-One Awarded H215 And AS332L1 Upgrade Contract By German Federal Ministry Of Interior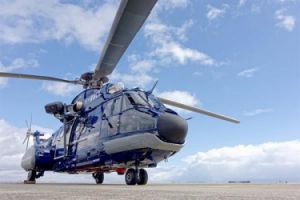 May 21, 2019, Stavanger, Norway - Heli-One, a leading provider of helicopter maintenance, repair, and overhaul (MRO), is pleased to announce a helicopter upgrade contract with the German Federal Ministry of Interior to modify their incoming Airbus H215 fleet and existing AS332 aircraft. The upgrade project covers four H215s with an option for an additional 16 AS332L1/H215 aircraft and in its entirety will take up to 8 years. Each aircraft will have dozens of modifications with the latest technology to make them flexible and mission-ready for their complex operational use. The German Federal Ministry of Interior will benefit from Heli-One's experience in developing and implementing industry-leading modifications with a focus on crew requirements.
The fleet is operated by the Federal Police (Bundespolizei) who provide public safety services for German citizens and participate in international missions. Their large and diverse fleet will welcome four Airbus H215 helicopters into service in 2020 and join the existing 19 AS332L1s, 42 H135s (and variants), 19 H155s, and 10 H120s. The aircraft perform a range of missions including search and rescue, border security, maritime protection, disaster response, transportation, counter-terrorism, and supporting international and regional efforts for the United Nations and European Union.
The contract focuses on installing post-delivery mission equipment to harmonize the H215 with the existing fleet to make them mission-ready as soon as possible. Each H215 will receive over 50 modifications, including cabin installations, communication/navigation equipment, search lights, cameras, and rescue equipment. Additional AS332L1/H215s will also have upgrades to bring them up to operational conformity with the fleet.
"We are excited to help the Bundespolizei make their new H215s ready to provide critical services for their citizens and other countries in the region. We value the long-standing working relationship we have developed with their team and will continue to provide the best design solutions for their crew," said Eddie Lane, President Heli-One.
Heli-One has worked closely with the Bundespolizei for years and is currently performing a modernization program for the AS332L1s - installing a glass display-based cockpit solution with a complementary multi-mission flight management system. In addition to this modernization program, Heli-One worked closely with the flight team to develop additional solutions that have aided crew efficiency such as customized mission equipment and navigation system improvements.
"Our focus has been on identifying and securing revenue-generating long term government contracts and this is a major validation of this strategy. We continue to increase our market share in the defence sector and compete and win in a number of markets," commented Kevin Charles, Senior Sales Director. He added, "We have a fantastic team and I am extremely proud to be part of our success in this H215 and AS332L1 contract award."
Heli-One is widely recognized as a global leader in support of the Super Puma platform, with more than 30 years of experience. Heli-One has supported both military and civil customers and practically every mission profile that utilizes this adaptable platform. Support offerings include everything from nose-to-tail, including engines and comprehensive maintenance support. In-house design teams on two continents have developed more than 40 supplemental type certificates (STCs) for this helicopter type and continue to find innovative solutions for customers to maximize operational capability and efficiency.
About Heli-One
Heli-One is based in Richmond, British Columbia, Canada, and has MRO operations in Richmond, Canada; Delta, Canada; Stavanger, Norway; and Rzeszow, Poland. Heli-One is the world's largest independent helicopter MROs and holds certifications and expertise on a broad range of airframes and components from major helicopter and engine manufacturers, including Airbus, Sikorsky, Leonardo, Bell, Safran, Pratt & Whitney and General Electric. Visit http://heli-one.com to learn more.
Heli-One is a segment of CHC Helicopter, the operating company of CHC Group LLC.
Heli-One Media Contact Information
Brian Bianco
Senior Manager, Global Communications
+1.214.262.7426
Brian.Bianco@chcheli.com
Cautionary Note on Forward-Looking Statements
This press release and other statements that we may make contain forward-looking statements. Forward-looking statements are statements that are not historical facts and include statements about our future financial condition and future business plans and expectations. Such forward-looking statements are based upon the current beliefs and expectations of our management, but are subject to risks and uncertainties, which could cause actual results and/or the timing of events to differ materially from those set forth in the forward-looking statements. The forward-looking statements speak only as of the date on which they are made and the Company undertakes no obligation to publicly update such forward-looking statements to reflect subsequent events or circumstances. Should one or more of these risks or uncertainties materialize, or should underlying assumptions prove incorrect, actual outcomes may vary materially from those indicated.
View source version on Heli-One:
http://www.heli-one.com/news-media/news-events/news-eventsdetail/2019/05/21/heli-one-awarded-h215-and-as332l1-upgrade-contract-by-german-federal-ministry-of-interior