Sep 10, 2019
SOURCE: Elbit Systems UK
Elbit Systems UK Subsidiary Awarded $38 Million Contract from the UK MoD to Supply Joint Fires Synthetic Training Systems (JFST)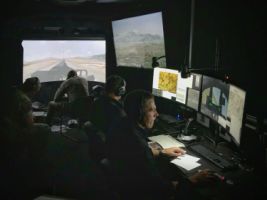 Haifa, Israel, September 10, 2019 – Elbit Systems Ltd. (NASDAQ: ESLT, TASE: ESLT) ("Elbit Systems") announced today that its UK subsidiary, Elbit Systems UK Ltd., ("Elbit Systems UK"), was awarded an approximately $38 million contract from the UK Ministry of Defence ("UK MoD") to supply comprehensive JFST systems to the British Army. The JFST systems will be supplied over a period of two years following which Elbit Systems UK will provide an additional four years of maintenance, technical support and on-site training.
Under this contract, Elbit Systems UK will provide both fixed and mobile systems that are comprised of multiple networked simulators set to train mounted and dismounted Joint Fires teams and Joint Fires Cells. JFST systems will also be supporting exercises for reserve forces and teams deployed at sea, such as those onboard the Royal Navy's Queen Elizabeth Class Aircraft Carrier.
Martin Fausset, CEO of Elbit Systems UK, said: "We are proud to have been selected by the UK MoD to supply the JFST systems, providing a valuable capability for the British Army and delivering an operationally proven capability into the UK, together with our local partners."
About Elbit Systems
Elbit Systems Ltd. is an international high technology company engaged in a wide range of defense, homeland security and commercial programs throughout the world. The Company, which includes Elbit Systems and its subsidiaries, operates in the areas of aerospace, land, and naval systems, command, control, communications, computers, intelligence surveillance and reconnaissance ("C4ISR"), unmanned aircraft systems, advanced electro-optics, electro-optic space systems, EW suites, signal intelligence systems, data links and communications systems, radios and cyber-based systems and munitions. The Company also focuses on the upgrading of existing platforms, developing new technologies for defense, homeland security and commercial applications and providing a range of support services, including training and simulation systems.
For additional information visit: elbitsystems.com, follow us on: Twitter, LinkedIn, Facebook or visit our official YouTube Channel.
Visit our Press Relations website for background materials and information regarding Elbit Systems fields of activity.
David Vaaknin
Vice President, Head of Corporate Communications
Tel: 972-77-2946691
Cell: 972-52-8000403
E-Mail: david.vaaknin@elbitsystems.com
Dana Tal-Noyman
Manager International Corporate Communications
Tel: 972-77-294-8809
Cell: 972-54-9998809
E-Mail: dana.tal@elbitsystems.com