Nov 21, 2019
SOURCE: ECA Group
ECA Group contributes to the TURMA consortium for the European EDIDP programme to develop the military land vehicles of the future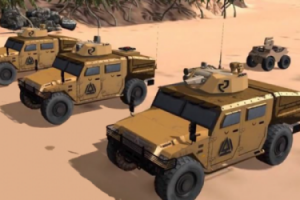 November 21, 2019 - As part of the European Commission's call for tenders (EDIDP), ECA Group is joining the consortium TURMA which stands for « Teaming – Unmanned – Robotic – Manned – Architecture ». ECA Group will participate to this project by providing its recognized expertise in the planning and supervision of robot missions.
Building on its expertise in drones systems and its innovation capacities, this project will push the boundaries of robotics and contribute to Europe's leading position in this promising sector.
Within the framework of the call for projects prefiguring the future European Defence Fund (EDIDP), the TURMA grouping brings together 24 SMEs, ETIs, large groups and public institutions from 9 European countries. Coordinated by the Belgian group John Cockerill, its objective is to limit the exposure to dangers of troops deployed in theatres of operations, while increasing their on-ground effectiveness.
In practice, the idea is to enable the military to adapt to their mission's requirements by reversibly transforming all of their armoured vehicles into autonomous or remotely operated platforms, capable of acting independently or in swarms. This ability will be useful, for example, in responding to contaminated environments or extracting an injured person from a hazardous area. This particularly innovative versatility will be made possible by the development of technological, software and physical bricks, which can be integrated both in the tanks currently in service within the various armies or in the future vehicles.
View source version on ECA Group:
https://www.ecagroup.com/en/business/eca-group-contributes-to-the-turma-consortium-for-the-european-edidp-programme-to-develop-the-military-land-vehicles-of-the-future