May 21, 2020
SOURCE: Boeing
Boeing Chooses Leonardo to Provide Wedgetail Protection System Designed and Built in the UK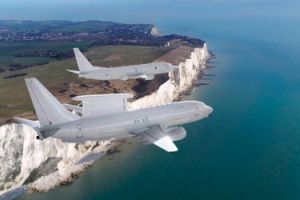 London, May 20, 2020 - Boeing [NYSE: BA] has selected Leonardo to deliver an integrated Defensive Aids System (DAS) for the United Kingdom's new fleet of five Wedgetail Airborne Early Warning (AEW) MK1 aircraft.
"This contract award is another milestone toward the UK receiving the world's most advanced command-and-control aircraft," said Anna Keeling, managing director of Boeing Defence UK. "We're pleased to be working with Leonardo to add this key component of the aircraft from right here in the UK."
Fully designed, developed and manufactured in the UK, the system will provide protection for the Wedgetail, which the Ministry of Defence (MOD) chose in March 2019, guaranteeing the UK the world's most effective AEW&C aircraft at a fixed price.
The Wedgetail's advanced systems can detect emissions from airborne, maritime and ground targets, allowing crews to direct offensive and defensive forces while maintaining continuous surveillance of an operational area.
"This selection reinforces Leonardo's position as the UK's defence electronics champion and builds on our great partnership with Boeing to equip the Army's new AH-64E Apache helicopters with a UK sovereign DAS" said Alastair Morrison, Deputy Managing Director UK, Leonardo. "We're very proud that Wedgetail will join Typhoon, Shadow and the UK's helicopter fleet in being equipped with protective electronics from Leonardo."
Leonardo will deliver the system from its site in Luton, using its Modular Advanced Platform Protection System (MAPPS) architecture as the basis, with the MAPPS Controller at the heart. This is the latest iteration of Leonardo's Electronic Warfare Suite Controller (EWSC). The Royal Australian Air Force uses EWSC on its Wedgetail fleet.
As part of the selection, Thales UK, under a subcontract from Leonardo, will provide its Elix-IR Threat Warning System from its facility in Reading, and Vicon XF intelligent Countermeasures Dispensing System from its facilities at Bury St. Edmunds and Glasgow.
About Boeing in the United Kingdom
Boeing is the world's largest aerospace company and leading provider of commercial airplanes, defence, space and security systems, and global services. The company supports commercial and government customers in more than 150 countries. Boeing employs more than 150,000 people worldwide and leverages the talents of a global supplier base. Boeing has a growing UK workforce of 2,500 direct employees across the country and spends £2 billion a year in the UK supply chain. In 2018 Boeing opened its first European manufacturing facility in Sheffield. For more information visit www.boeing.co.uk or follow us on Twitter @BoeingUK.
About Leonardo in the UK
Leonardo is one of the UK's leading aerospace companies and one of biggest suppliers of defence and security equipment to the UK Ministry of Defence. The company operates from 6 main sites across the country, employing around 7,000 highly skilled people. Globally, Leonardo is among the top ten world players in Aerospace, Defence and Security, with more than 49,000 employees and a significant industrial presence in Italy, the United Kingdom, Poland and the USA. In 2019, Leonardo recorded consolidated revenues of €13.8 billion.
For more information visit uk.leonardocompany.com/en/home or follow us on Twitter @Leonardo_UK
Contacts:
Russ Oates
Boeing UK Communications
Office: +44 (0)20 7340 1960
russ.oates@boeing.com
Nicola Hammond
Boeing UK Communications
Office: +44 (0)7741 750 457
nicola.f.hammond@boeing.com
View source version on Boeing:
http://www.boeing.co.uk/news-media-room/news-releases/2020/may/leonardo-to-provide-wedgetail-protection-system.page?