Apr 8, 2021
SOURCE: Embraer
"Modular Airplane" Concept, an Embraer Collaboration, Receives International Design Award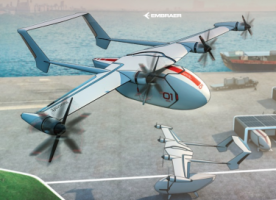 Évora, Portugal, April 6, 2021 - The FLEXCRAFT, a modular and remotely piloted aircraft concept, which allows quick reconfiguration of the cabin for multiple missions, won the International Design Awards (IDA) in the Transport Design category.
With the ability to land and take off on short lanes and use alternative energy sources, the concept seeks to foster ideas for transforming the future of air mobility, combining the human, technological, social and economic perspectives in a sustainable manner. IDA highlighted the passenger experience through the flexibility of fuselage design and new technologies.
Among the possibilities studied for usage are the transportation of passengers and cargo, support for civil protection activities, surveillance, aeromedical evacuation, and agriculture, among others.
The futuristic project was the result of a Portuguese consortium led by Sociedade de Engenharia e Transformação, SA (SET.SA) that brought together Embraer Portugal, Instituto Superior Técnico (IST), Almadesign, Instituto de Ciência e Inovação em Engenharia Mecânica e Engenharia Industrial (INEGI), plus the support from Embraer SA (Brazil). The initiative was funded by the Portugal 2020 program, under the Operational Program Competitiveness and Internationalization through the European Regional Development Fund.
"This award is a recognition of Embraer and all partners efforts, innovation and scientific research for this conceptual project, which points out opportunities and paths for the transformation of future air mobility," said Maurílio Albanese Novaes Júnior, Head of Research & Technology Development at Embraer. "We are also grateful for the initiative of the Government of Portugal, which, under the Incentive System for Research and Technological Development (SI I&DT) of the Portugal 2020 Program, promotes scientific research and trusts Embraer as a catalyst for the local chain and the development of the Portuguese aeronautics industry."
The scientific research aimed to raise the critical technologies of this concept in an integrated way, such as configuration, flexibility solutions and production and material processes.
Through the FLEXCRAFT project, it was possible to evaluate the development of new production processes, eco-efficient technologies, and the integration of new materials, among other research fronts.
Follow us on Twiiter: @embraer
About Embraer
A global aerospace company headquartered in Brazil, Embraer has businesses in Commercial and Executive aviation, Defense & Security and Agricultural Aviation. The company designs, develops, manufactures and markets aircraft and systems, providing Services & Support to customers after-sales. Since it was founded in 1969, Embraer has delivered more than 8,000 aircraft. On average, about every 10 seconds an aircraft manufactured by Embraer takes off somewhere in the world, transporting over 145 million passengers a year. Embraer is the leading manufacturer of commercial jets up to 150 seats and the main exporter of high value-added goods in Brazil. The company maintains industrial units, offices, service and parts distribution centers, among other activities, across the Americas, Africa, Asia and Europe.
View source version on Embraer:
https://embraer.com/global/en/news?slug=1206841-modular-airplane-concept-an-embraer-collaboration-receives-international-design-award