Sep 13, 2021
SOURCE: Elbit Systems Ltd
Elbit Systems Awarded $56 Million in Contracts to Supply Underwater Warfare Capabilities to an Asian-Pacific Navy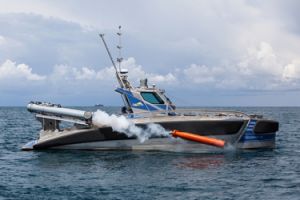 Haifa, Israel, September 13, 2021 – Elbit Systems Ltd. (NASDAQ:ESLT and TASE: ESLT) ("Elbit Systems" or "the Company") announced today that it was awarded contracts, in an aggregate amount of approximately $56 million, to supply Anti-Submarine Warfare (ASW) capabilities to the Navy of a country in Asia-Pacific. The contracts will be performed over a 12-month period.
Under the contracts, Elbit Systems will provide the Seagull™ USVs (Unmanned Surface Vessels) configured to perform ASW missions and the Towed Reelable Active Passive Sonar (TRAPS) systems.
The Seagull USVs will integrate Helicopter/Ship Long-Range Active Sonars (HELRAS) and will be equipped with the Company's autonomous suite, Combat Management System and Satellite Communication capability.
The TRAPS systems, which will be installed onboard the customer's corvettes, are low frequency variable-depth-sonars intended for detection, tracking and classification of submarines, midget submarines, surface vessels and torpedoes.
Oren Sabag, Co-General Manager of Elbit Systems ISTAR & EW, commented: "Advanced autonomous and sonar capabilities are a key to addressing the expanding challenges in the underwater arena. We believe that our portfolio of proven maritime capabilities is well positioned to support the growing operational requirements of naval forces around the world."
About Elbit Systems
Elbit Systems Ltd. is an international high technology company engaged in a wide range of defense, homeland security and commercial programs throughout the world. The Company, which includes Elbit Systems and its subsidiaries, operates in the areas of aerospace, land and naval systems, command, control, communications, computers, intelligence surveillance and reconnaissance ("C4ISR"), unmanned aircraft systems, advanced electro-optics, electro-optic space systems, EW suites, signal intelligence systems, data links and communications systems, radios, cyber-based systems and munitions. The Company also focuses on the upgrading of existing platforms, developing new technologies for defense, homeland security and commercial applications and providing a range of support services, including training and simulation systems. For additional information, visit: https://elbitsystems.com/ follow us on Twitter or visit our official Facebook, Youtube and LinkedIn Channels.
Company Contact:
Joseph Gaspar, Executive VP & CFO
Tel: +972-4-8316663
j.gaspar@elbitsystems.com
Rami Myerson, Director, Investor Relations
Tel: +972-77-2946403
rami.myerson@elbitsystems.com
David Vaaknin, VP, Brand & Communications
Tel: +972-77-2946691
david.vaaknin@elbitsystems.com
IR Contact:
Ehud Helft
Gavriel Frohwein
GK Investor Relations
Tel: 1-646-688-3559
elbitsystems@gkir.com
View source version on Elbit Systems Ltd:
https://elbitsystems.com/pr-new/elbit-systems-awarded-56-million-in-contracts-to-supply-underwater-warfare-capabilities-to-an-asian-pacific-navy/