Apr 28, 2022
SOURCE: Embraer
Embraer Promotes its Defense and Security Portfolio at the Asian Defense and Security (ADAS) in The Philippines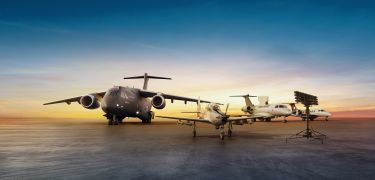 Manila, The Philippines, April 26, 2022 – Embraer will promote its complete portfolio of products and innovative solutions for the defense and security markets at the Asian Defense & Security (ADAS), in the Philippines, to be held between April 27 and 29.
Embraer's Defense & Security has the most modern product portfolio and solutions in the industry, which include the multi-mission transport aircraft C-390 Millennium and the A-29 Super Tucano light attack and training aircraft, in addition to broader solutions for air, land, sea, space and cyber domains.
Since its first delivery to the Brazilian Air Force (FAB), in 2019, the KC-390 Millennium multi-mission aircraft has proven its capability, reliability and outstanding performance on domestic and overseas missions. FAB's current fleet of Embraer KC-390s stands at five. These aircraft have exceeded 5,000 flight hours in operation, which means more than 600 flight hours per year by each aircraft, with a mission completion rate of 97%, showing outstanding productivity in its category. The aircraft has already selected by two NATO nations: Portugal and Hungary.
Embraer recently celebrated that the worldwide fleet of the A-29 Super Tucano aircraft has reached 500,000 flight hours. With more than 260 units delivered, the aircraft has already been selected by more than 15 air forces worldwide, including the Philippines, which currently has a fleet of six A-29 Super Tucano aircraft. The fleet of aircraft were delivered in 2020 during the global pandemic, reflecting Embraer's commitment to the Philippine Air Force.
Developed in response to the demanding requirements of the Brazilian Air Force (FAB), the A-29 Super Tucano can perform a broad range of missions that include light attack, aerial surveillance and interception, and counterinsurgency. The A-29 is rugged and versatile, being able to operate from remote and unpaved runways on advanced operational bases in hostile environments with little support—all with low operating costs and high availability.
Images: https://embraer.bynder.com/share/6691E38C-6A08-4559-8B30B67D94154A31/
Follow us on Twitter: @Embraer
About Embraer
A global aerospace company headquartered in Brazil, Embraer has businesses in Commercial and Executive aviation, Defense & Security and Agricultural Aviation. The company designs, develops, manufactures and markets aircraft and systems, providing Services & Support to customers after-sales.
Since it was founded in 1969, Embraer has delivered more than 8,000 aircraft. On average, about every 10 seconds an aircraft manufactured by Embraer takes off somewhere in the world, transporting over 145 million passengers a year.
Embraer is the leading manufacturer of commercial jets up to 150 seats and the main exporter of high value-added goods in Brazil. The company maintains industrial units, offices, service and parts distribution centers, among other activities, across the Americas, Africa, Asia and Europe.
View source version on Embraer :
https://embraer.com/global/en/news?slug=1207021-embraer-promotes-its-defense-security-portfolio-at-the-asian-defense-security-adas-in-the-philippines