Oct 31, 2022
SOURCE: Elbit Systems Ltd
Elbit Systems Awarded a $25 Million Contract to Supply Communications Systems to Finland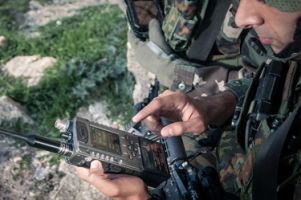 Haifa, Israel, October 31, 2022 – Elbit Systems Ltd. (NASDAQ:ESLT and TASE: ESLT) ("Elbit Systems") announced today that that it was awarded a contract valued at approximately $25 million from the Finnish Ministry of Defence to supply radio communications systems to the Finnish Army. The contract will be executed over a two-year period.
Under the contract, Elbit Systems will supply advanced secured radio communications systems that enable enhanced tactical command and fire control and are backward compatible with analogue radio equipment that is currently in use by the Finnish Army. Military radio communications solutions of Elbit Systems have been selected to-date by several European and NATO countries including Sweden, Germany, Switzerland, The Netherlands, Canada, Spain and others.
Haim Delmar, General Manager of Elbit Systems C4I & Cyber, commented: "I am honoured by the trust placed by the Finnish Defence Ministry in our capabilities. This contract validates the technological and operational advantages offered by our communication products. We look forward to a continued partnership with the Finnish defence forces."
About Elbit Systems
Elbit Systems Ltd. is an international high technology company engaged in a wide range of defense, homeland security and commercial programs throughout the world. The Company, which includes Elbit Systems and its subsidiaries, operates in the areas of aerospace, land and naval systems, command, control, communications, computers, intelligence surveillance and reconnaissance ("C4ISR"), unmanned aircraft systems, advanced electro-optics, electro-optic space systems, EW suites, signal intelligence systems, data links and communications systems, radios, cyber-based systems and munitions. The Company also focuses on the upgrading of existing platforms, developing new technologies for defense, homeland security and commercial applications and providing a range of support services, including training and simulation systems.
For additional information, visit: https://elbitsystems.com, follow us on Twitter or visit our official Facebook, Youtube and LinkedIn Channels.
Company Contact:
Joseph Gaspar, Senior EVP – Business Management
Tel: +972-77-2948661
j.gaspar@elbitsystems.com
Dr. Yaacov (Kobi) Kagan, EVP & Chief Financial Officer
Tel: +972-77-2946663
kobi.kagan@elbitsystems.com
Rami Myerson, Director, Investor Relations
Tel: +972-77-2948984
rami.myerson@elbitsystems.com
David Vaaknin, VP, Head of Corporate Communications
Tel: +972-77-2946691
david.vaaknin@elbitsystems.com
IR Contact:
Ehud Helft
Kenny Green
GK Investor Relations
Tel: 1-646-201-9246
elbitsystems@gkir.com

View source version on Elbit Systems Ltd:
https://elbitsystems.com/pr-new/elbit-systems-awarded-a-25-million-contract-to-supply-communications-systems-to-finland/