Jan 23, 2023
SOURCE: Elbit Systems Ltd
Elbit Systems to Supply Large Main Deck Cargo Doors for Boeing 777 Freighter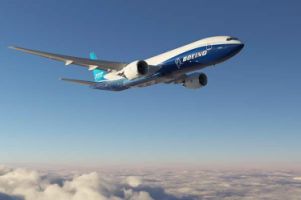 Haifa, Israel, January 23, 2023 – Elbit Systems Ltd. (NASDAQ: ESLT, TASE: ESLT) ("Elbit Systems" or the "Company") announced today that its wholly-owned subsidiary, Elbit Systems-Cyclone LTD., was awarded a contract for the supply of aero-structure assemblies to The Boeing Company (NYSE: BA).
The contract includes production and supply of the largest Main Deck Cargo Door (MDCD) for the Boeing 777 Freighter and 777-8 Freighter.
Cyclone Ltd offers a broad range of aerospace capabilities, including the design and production of composite structural assemblies as well as services such as maintenance, installations, upgrades, and integration of products to clients around the globe.
Elbit Systems is one of the world's major supplies of aircraft doors and provides innovative and high-standard solutions.
Yoram Shmuely, General Manager of Elbit Systems Aerospace said: "We are proud to be a tier one supplier for Boeing's 777 Freighter. This selection attests to our past performance and the importance of being a part of Boeing's Premier Bidder program. Our commercial aviation business units offer customers an extensive portfolio of products and solutions, for both the platform and the pilots and should benefit from the increased demand for cargo planes due to the growing use of e-commerce, especially following the COVID pandemic."
About Elbit Systems
Elbit Systems Ltd. is an international high technology company engaged in a wide range of defense, homeland security and commercial programs throughout the world. The Company, which includes Elbit Systems and its subsidiaries, operates in the areas of aerospace, land and naval systems, command, control, communications, computers, intelligence surveillance and reconnaissance ("C4ISR"), unmanned aircraft systems, advanced electro-optics, electro-optic space systems, EW suites, signal intelligence systems, data links and communications systems, radios, cyber-based systems and munitions. The Company also focuses on the upgrading of existing platforms, developing new technologies for defense, homeland security and commercial applications and providing a range of support services, including training and simulation systems.
For additional information, visit: https://elbitsystems.com, follow us on Twitter or visit our official Facebook, Youtube and LinkedIn Channels.
Company Contact:
Joseph Gaspar, Senior EVP – Business Management
Tel: +972-77-2948661
j.gaspar@elbitsystems.com
Dr. Yaacov (Kobi) Kagan, EVP & Chief Financial Officer
Tel: +972-77-2946663
kobi.kagan@elbitsystems.com
Rami Myerson, Director, Investor Relations
Tel: +972-77-2948984
rami.myerson@elbitsystems.com
Dalia Bodinger, VP, Communication & Brand
Tel: 972-77-2947602
dalia.bodinger@elbitsystems.com
IR Contact:
Ehud Helft
Kenny Green
GK Investor Relations
Tel: 1-646-201-9246
elbitsystems@gkir.com

View source version on Elbit Systems Ltd:
https://elbitsystems.com/pr-new/elbit-systems-to-supply-large-main-deck-cargo-doors-for-boeing-777-freighter/