Last Update
September 7, 2016
Categories
C4I, Communication Systems
Electrical, Electronics & Electro-optics
IT, Computing and Software
Mechanical, Electro-mechanical, Hydraulic and Pneumatic components
Services (R&D, training, engineering, consultancy, …)
Training & Simulation
Saab Technologies s.r.o., is the official business representative of the Swedish company Saab AB in the Czech Republic. Saab Technologies keeps looking for ways how to implement products and services of Saab's entire portfolio in the Czech environment and how to provide maximum possible to support to Czech customers during and after the acquisition of our products.
The background and support of the strong and successful parent company with a tradition of almost 75 years allows us to draw from ample experience and helps us maintain a leading position in the fields of defence technologies and civil security in the Czech market.
The company's record in the Czech Republic includes more than seven years of successful operation and several contracts for Saab's key technologies with the Ministry of Defence of the Czech Republic, such as the lease of JAS-39 Gripen fighter aircraft and the related industrial cooperation programme, ARTHUR Weapon Locating System, RBS-70 portable SAM system or Carl Gustav recoilless rifles, but also comprehensive communication and security solutions for both government and private customers.
Thanks to good and stable results of the Czech subsidiary between 2007 and 2013, the Czech Republic now ranks among key markets where Saab is planning a significant growth. In line with the above strategy, the acquisition of assets of the Slavkov-based company E-COM was accomplished as of May 1, 2011. The acquisition has added virtual simulators, which can substantially reduce costs of military training, to the existing portfolio of Saab's training systems.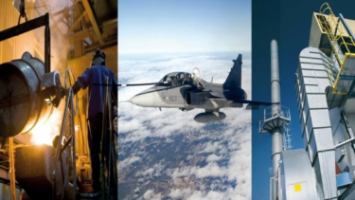 Contact info #1
Celakovskeho 689, 684 01 Slavkov u Brna, Czech Republic
Saab Technologies s.r.o.
Sokolovská 79/192, Prague, Czechia
+420 234 703 811
N/A
info@saabtechnologies.cz