Last Update
August 17, 2016

Categories
Engines, Propulsion, Power Generation
Mechanical, Electro-mechanical, Hydraulic and Pneumatic components
Metal Processing, Parts & Components
Services (R&D, training, engineering, consultancy, …)
Prvni brnenska strojirna Velka Bites, a.s. (PBS Velka Bites) was established in 1991 is a renowned manufacturer of:
small aircraft turbojet engines for pilotless planes and small aircraft,
auxiliary power units for aircraft and helicopters,
air conditioning systems for aircraft and helicopters,
backup ground power units,
precise castings,
complex finished parts of electric motors, alternators, mammographs and wind power plants,
decanting centrifuges for waste water treatment plants.
The company is divided into divisions with respect to individual products and technical developments:
Management and Services Division:
property administration, service and technical attendance of production processes, central research and development, strategic marketing
electroplating of parts – anodizing, hard eloxal process, nickel, tin, zinc, blacking
metallurgical material cutting – metal sheet cutting, bar material cutting
Aircraft Technique Division:
auxiliary power units – turbine engines serving as sources of pressure air, hydraulic, electrical and mechanical energy (APU) for aircraft systems
aircraft gearboxes
airstarting turbines
turbojet engines
aircraft air conditioning systems – turbo-cooling units, heat exchangers, water separators and pneumatic control elements
cryogenics – gas expansion turbines and compressors for compression and liquefaction of gases
cogeneration and ground power units – combined supply of heat and power, ground power supply of aircraft
cooperation
testing laboratory
Metallurgy Division:
precision investment castings – of nickel and cobalt base superalloys, marginally of carbon to high alloy steels or cast iron of the weight ranging between 0.03 kg and 20 kg
air and vacuum casting
casting certification in own testing laboratory
certified manufacturing process Machine Shop and Tools Division
production of moulds for precise casting and plastic pressing
production of jigs and special tools
production of complex parts and assemblies, co-operation
decanting centrifuges
Contact info #1
Managing Director and Chairman of the Board of Directors
Vlkovska 279595 12 Velka Bites, Czech Republic
TESTING LABORATORY
The testing laboratory is primary identified for inner needs of aircraft technique division. Nevertheless, some tests are carried for external customers too.
There are verified predefined characteristics of production to grant all operation requirements – power, quantity and stability of supplied energies (air, electricity, hydraulics), reliability, vibration and shock resistance and, last but not least, reliability into service at long-term testing there. The test facility is one of the most important parts of research and development of new products.
Currently, there are 13 product differentiated test boxes – APU, environmental control systems, small turbojet engines, cryogenics and gearboxes. The vibration test system TIRA TV 59335LS-640 / TGT MO 36 is instrumental to test pieces testing according to customer requirements. Test software enabling: Sinus, Random, Field Data Replicator (FDR), classical Shock, Sine on Random, Random on Random, Shock Response Spectra (SRS), Transient Shock, Recorder.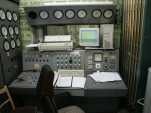 PROJECTS AND DEVELOPMENT
Projects and Development Department generally provides the necessary technical background needed for continuity of development of final products of První brněnská strojírna Velká Bíteš, a.s., especially of Aircraft Technique Division.
For technical calculations the following softwares are used:
MGF BIT – for determining dynamic characteristics of slide bearings
DYNROT, Pro/Mechanika – for analyses of stability, critical speed and vibration of high-speed rotors (finite element method)
MATLAB – for models of dynamic behaviour of aircraft gearboxes
ANSYS – for stress, thermal and deformation analyses of machine parts (finite element method)
SKALA – for calculations of life of heavy loaded parts from the viewpoint of low cycle fatigue, for analyses of stability, critical speed and vibration of high-speed rotors (finite element method)
FLUENT – CFD software for solution of tasks of viscous flow of gases and liquids (finite volume method)
Pro/E – CAD software for 3D modelling the system of software support of own provenience (VBA, Fortran): – for design of flow parts of radial compressors – for design of flow parts of radial and axial turbines – for determining thermodynamic circulation parameters and properties of their working media
LATHE TURNING
Conventional - max. ø 1000 mm, length 4000 mm
NC - max. ø 2100 mm, length 8000 mm
CNC - max. ø 600 mm, length 900 mm
Vertical NC lathes - max. ø 1200 mm, length 830 mm
ELECTROEROSIVE SPARKING
Electroerosive sparkers AGIE MONDO INNOVATION 265x580x250 mm
Wire cutter AGIECUT CLASSIC 2 - desk dimension 750x350x250 mm
DRILLING
Conventional drilling machines, both co-ordinate and NC
Both single and multispindle
Max. drilling diameter 804 mm
WELDING AND SOLDERING
Arc welding, point welding, flame welding
Carbon dioxide and argon shielded welding - aluminium, stainless steel
Vacuum soldering
BORING
Both horizontal and vertical
Both conventional and NC
Max. 7000 x 2000 mm
ELECTROEROSIVE SPARKING
Max. ø 1600 mm, distance of balanced diameters 2500 mm, max. weight 1300 kg
MILLING
Horizontal, vertical, universal, tool-room, contour
Both single and multispindle
Conventional - table size: length 1400 mm, width 900 mm
NC and CNC including drilling and threading - length 3000 mm, width 1250 mm, (height 2240 mm)
Gear milling - module 0.2 ÷ 1.5, max. ø 120 mm, length 150 mm
Milling in 5 axes
CASTING
Investment castings
Casting weight 0.1 ÷ 20 kg
Vacuum or air casting
Materials from carbon steels to super-alloys on nickel and cobalt base
MULTIPLE OPERATION MACHINE TOOLS
NC, with automatic replacement of technological pallets and tools
Pallet size 800 x 800 mm
SURFACE FINISH
Blasting, barrel tumbling, pickling, elektrochemical polishing
Anodizing, hard eloxal process - max. 1900 x 900 mm, film thickness 10 ÷ 60 mm
Nickel, tin, zinc, cadmium plating, blacking - max. 1200 x 750 mm
SHAPING
Gear shaping - max. module 6, ø 320 mm, stroke 70 mm, rectilinear face toothing
HEAT TREATMENT
Annealing
Hardening
Heat treatment
MATERIAL CUTTING
Cutters
Metal-slitting saws
Hack saws
Band saws - max. ø 360 mm
Shears up to 10 mm
THREAD ROLLING
Thread rolling - up to ø 20 mm, width depending on disks - max. 70 mm
GRINDING
Both horizontal and vertical
Surface, centre, thread, tool-room
Centre - max. ø 400, length between centres 1000 mm
Internal - max. ø 100, depth 120 mm
Surface - table size width 300 mm, length 1500 mm
Centreless - max. ø 60 mm, wheel width 50 mm
INSPECTION
Dimensional
Direct measurement
Co-ordinate measuring system PRISMO - max. 1200 x 900 mm, 500 kg
WENZEL - 800 x 1000 mm, 800 kg
Mechanical tests • X-ray - max. thickness 100 mm (for steel)
Ultrasonic - material thickness 2 ÷ 1000 mm
Dye penetrant - max. ø 500 mm
Chemical analysis
Magnetic tests
Metallography
BROACHING
Vertical
Up to draw force 10 tons and stroke 2000 mm
DOCUMENTATION
AutoCAD, Pro/ENGINEER, ANSYS software have been used in process and for designing
Prvni brnenska strojirma Velka Bites, a.s.
Vlkovska 279, 595 12, Velka Bites, Czechia
+420 566 822 111
+420 566 822 135
pbsvb@pbsvb.cz