Last Update
December 5, 2018
Categories
Maintenance Repair Overhaul and Logistics Support
Other Aerospace, Defence and High Technology related companies
Axxiflex Turbine Tools is dedicated to the development, manufacturing and distribution of turbine tools, aviation GSE (Ground Support Equipment) and MRO (Maintenance, Repair & Overhaul) tools to support all levels of production and maintenance for all O.E.M. aerospace. Honeywell has authorized and licensed Axxiflex as official vendor and manufacturer for Ground Support Equipment and tooling for all commercial APU's, ATF3, TFE 731, and TPE 331 engines.
Honeywell has authorized Axxiflex to be an European vendor for all GSE and tooling for the European Defences.
GE Structural Services has approved Axxiflex as GSE tooling manufacturer.

QUALITY
Quality Plan meets NEN-EN-ISO 9001:2000
Honeywell Approval Certification
GEAE SRP Approval
TNT Company Compliancy Certificate
Calibration System
Material Control
Control of nonconfirming material
Document Control
Record Keeping
Inspection first piece and final
Standard lot acceptance performed to ISO 9001:2000 or customer requirement
Continuous Improvement
Emphasize Defect Prevention
Reduction of Waste and Variation
Products
Turbine Tools
Production Tools
Design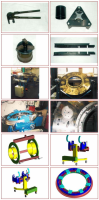 Product informational files
Capabilities
Precision Machining
Assembly
Engineering Design and Services
Industrial Equipment Services
Fabrication & Processing
Dies
Molds
Fixturing
Tooling
Gages
Short to Medium Production Runs
Prototype & Development
Work
Mechanical Inspection
Technology
CNC Turning and Milling Machining Centers
EDM Technology
Jig Bore & Jig Grinding
External & Internal Surface grinding
Jig, Fixture, Mold, Gage and Die Fabrication
Full Toolroom Support
Full Inspection & Capability Study Support
Work Centers
CNC Lathes & Mills
Manual Lathes & Mills
EDMs (Conventional)
Jig Bores & Jig Grinders
Universal Grinders & Surface Grinders
Sheet Metal Fabrication
Deburr & Misc. Support Equipment
Aqueous Degreaser
Inspection
Types of Material Experience
Alloy Metals and Steels
Tool Steels & Stainless Steels
Acrylics & Engineering Plastics
Computer Numerical Control Programming
Espirit Computer Integrated Manufacturing
Complete 3 Dimensional CAD-CAM System
Post Processor Generator
Direct Numerical Control (DNC)
Backup Capability
On-Line /Direct Programming
Conversational Mils & Lathes
AutoCAD/VECTOR
Featured Based Solid Model
Modeling/Analysis
Assembly
Assembly of machines, instruments and equipment or product components on consultation with the client.
Engineering Services
CAD solid modeling and design using AutoCAD.
Industrial Equipment Services
Corrective, preventive, predictable maintenance services for industrial manufacturing & process equipment.
Customers
Axxiflex customers are located worldwide.

Axxiflex is an approved supplier to the following Original Equipment Manufacturers:
Honeywell Aerospace
Pratt & Whitney (United Technologies Corporation)
GEAE
Axxiflex is an official licensee to Honeywell.
References
Australia
Western Australia Police, Perth
Belgium
Delta (DAT) Belgium Airlines, Brussels
Germany
Air Lloyd Luftfahrt Technik, Bonn
BMW-Rolls Royce, Oberursel
Lufthansa Cityline
Ireland
Farao Islands
United Kingdom
Allied Signal Aerospace, Luton
CityFlier WoodGroup Flight Line, Essex
Militair Aviation
The Netherlands
Eldim B.V. , Venlo
ESA European Space Agency, Noordwijk
Interturbine Holland B.V., Lomm
KLM, Amsterdam
Royay Netherlands Airforce, Den Haag
Standard Aero, Tilburg
Stork RMO, Amsterdam
Thomassen International T.S.S.I. B.V., Rheden
Pakistan
Sweden
Malmo Aviation Schedule, Malmo
Turkey
Turkish Airlines, Istambul
USA
Allied Signal Engines, Phoenix
General Electric Support Services, Mt. Laurel Interturbine, Dallas
United Technologies Pratt & Whitney, Florida
Axxiflex Turbine Tools B.V.
Stedenbaan 15, 5121, DP, Rijen, The Netherlands
+31 161 244 770
+31 161 244 777
axxiflex@axxiflextt.com