Last Update
August 2, 2017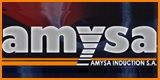 Categories
Mechanical, Electro-mechanical, Hydraulic and Pneumatic components
Metal Processing, Parts & Components
Amysa, is a company focused on the design, manufacturing, test and services of induction heating and heat treating systems. Located in an industrial site of large-scale, Amysa works closely with a high capacity local company pool equipped with the best production plants for machining, metal-working, sheet metal working, mechanical sub assembling and electrical cabinet assembling.
Amysa provides the best turnkey solutions for your specific applications. Swiss Quality, Reliability and Longevity are the traditional references of Amysa products. Price and effectiveness are the moreover terms, thanks to the last product improvements and to the new organization of Amysa Induction S.A.
Active in Switzerland, in Europe and oversea, Amysa provides worldwide well-known products and services.
Amysa Induction S.A.
Chemin de l'Islettaz, Venoge Parc C1, Penthalaz, Switzerland
+41 (0)21 863 10 60
+41 (0)21 863 10 61
info@amysa.com