Last Update
November 14, 2016

Categories
Ballistic Protection
Services (R&D, training, engineering, consultancy, …)
Textile, Individual Equipment, Clothing
Lithuanian Textile Institute, is a research and service centre employing competent and experienced specialists. It was founded in Kaunas in 1960, which is the textile centre of Lithuania since old times. Since 1960 to 2000, particularly during the last 10 years, Lithuanian Textile Institute has implemented structural and mentality revolution to meet new profitability, optimize technical and human resources. Such spheres of activity as research, testing, development of new products and methods, control of quality of products assigned for the protection of people's health and life form the core of Lithuanian textile Institute.
Lithuanian Textile Institute works in a close co-operation with the textile and clothing industry. The institute is a member of Association of Light Industry Enterprises of Lithuania.
The specialists of institute take part in Lithuanian and international conferences making reports on innovations in textile industry. Conferences are often held in traditional annual exhibition "Baltic Textile and Leather".
A modern testing laboratory provides efficient analyses of textile garments according to EN and ISO standards. Quality control and consulting of customers is a part of everyday life.
Institute took the initiative to found the technical committee TK21 "Tekstil" which has the main mission to harmonise the requirements of Lithuanian stndards with European and international standards.
Lithuanian textile institute creates, designs and manufactures technical textile fabrics and protective clothes. Product range is the result of research and technological development in close co-operation with West Europe leaders in this field. High-tech materials and technological result in the development and manufacture of wide range garments for personal protective equipment and protective clothing for military, police and civil application, which fulfils requirements of EN, NATO and NIJ standards. The company's product lines include:
Ballistic and stab protection: bullet, fragment, stab resistant garments with optimized comfort made of paraaramide years for police, prisons, defense and security authorities
Flame and heat retardant clothing: over-garments for fire-fighter on base of metaaramide yearns
Water-proof and breathable over-garments with reciprocal moisture system (water repellent and vapour permeat are combined in one garment) for military application
Working clothes for industrial and other workers. Also Institute can offer a wide range of technical textiles such as: fabric for limitary clothing (three layer breathable material, polycotton or cotton in camouflage printing or plain colour)
Lithuanian Textile Institute and the company "SESTAN-BUSCH" are co-manufacturers of bullet-proof helmets.
The Institute is active in the following research branches:
Technology of technical textile fabrics fog indutech, hometech, medtech application (filtration, household textiles, medical, aerospace)

Technology of woven and knitted fabrics for military and civil protective clothing

Protective clothing technology

Special textile finishing (fire, water, chemical, oil resistant )

Material research
Exports to: United Kingdom, Sweden, Latvia.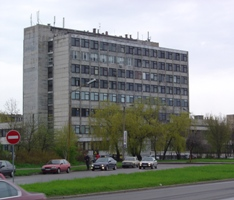 Lithuanian Textile Institute (LTI)
Demokratu 53, Kaunas, Lithuania
+370 37 308666
+370 37 308668
textilinstitut@delfi.lt