Categories
Services (R&D, training, engineering, consultancy, …)
Textile, Individual Equipment, Clothing
The predecessor of the present company was established January 1st 1911 as "Mechanikai Len-és Kenderszövo, Kikészíto és Impregnáló Taussig Sámuel és Fiai". The company used to produce tablecloths, towels, apparel fabrics, canvas and technical textiles.
The factory was damaged in the II World War and began to produce again in May 1945. It was confiscated in 1948 under the name "Gyori Szövogyár" and then in 1963, when all companies in the flax industry were contracted into the "Buda-Flax Lenfonó és Szövoipari Co.", it became the weaving mill of the Co. in Gyor.
On October 12th 1988 the company turned into the "Buda-Flax Gyori Lenszövo Rt." public company without any predecessor in title. The name of the company was changed into "Pannon-Flax Gyori Lenszövo Rt." on November 24th 1994.
The shares of the company were floated on the Budapest Stock Exchange, category "B" on June 3rd 1991 after initial public offering. From January 1st 2009 an important part of the textile production has been transferred into the Pannonflax Textil Kft. Pannon-Flax NyRt. is actually mostly dealing with investment and property development activities.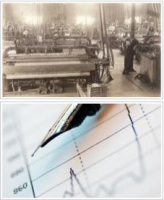 Pannon Flax Gyor Linen Weaving Co. (Pannon Flax Rt)
1016 Derék u. 2, Budapest, Hungary
+36 1 202 3195 
+36 1 201 9809 
info@pannon-flax.hu