Last Update
September 14, 2018

Categories
IT, Computing and Software
Other Aerospace, Defence and High Technology related companies
Triview is a specialist in producing, translating, publishing and maintaining information, and can assist customers in implementing an 'Information Supply Chain' or parts thereof. Needless to say, the company can also take the work off their hands and develop and manage the entire process for them.
Triview has full knowledge of virtually all the aspects of production, translation, publication and maintenance of information. The company has the knowledge to develop manuals, use illustrations and present information effectively, and can also develop advanced and customer-specific software solutions. Triview is also designated as authorized reseller/distributor by various software suppliers.
Since 1993 Triview has carried out thousands of projects within numerous branches, market segments and countries. Not only does this experience help the company to offer better services and products within a certain segment; it also allows them to use the knowledge and expertise gained in other, new segments as well.
Triview background in complex and technical documentation, publication and translation/localisation processen helps the company to come up with better solution; independent of the content of the information.
By applying content management and single sourcing strategies, document configuration and database publishing technology we significantly improve the documentation related processes; or we can even take over the activities.
Triview is operating in market segments like:
• Defense
• Electronics
• Financial sector
• Machine construction
• Process industry
• Software and IT
• Government
• Publishers
Services
Right from the very start Triview's core-business has always been providing services for producing, translating, publishing and maintaining complex - often technical - information.
Ranging from writing user manuals to automated publishing of catalogs and from the seconding of technical writers to advising on setting up an Information-supply chain.
The services the company offers include:
• Documentation
• Translations
• Illustrations and design
• Advice
• Secondment
• Content management
• Database publishing
• Digitising
• Conversion
Products for better documentation and publication processes
Triview is a specialist in all aspects of complex documentation and publishing processes. The company supports customers with the selection and succesful implementation of solutions to implove their processes. The company's philosophy is to choose existing 'Best-of-Breed' products, and supplement these with Triview or customer specific components if needed.
Often Triview solutions are based on Author-it, one of the most successful Component Content Management Systems (CCMS) in the world. Since 2003 Triview has been the 'Authorized Reseller' for the BENELUX-countries and the UK. But the company has also been implementing Author-it in other parts of Europe (and further).
Besides implementing solutions from others, Triview develops clever software products as well, like:
• Author-it plugins and extensions (xPublisher, eLearning Processor, ResourceTranslator, ManualConfigurator etc.)
• Parts Catalog Generator
• WordFormatter
• DocumentNavigator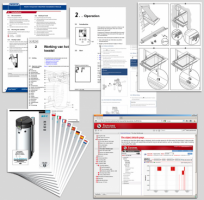 Triview Technical Communication B.V.
Amersfoortsestraat 124d 3769 AN, Soesterberg, The Netherlands
+31 35 6029696