Last Update
September 7, 2016
Categories
Electrical, Electronics & Electro-optics
Mechanical, Electro-mechanical, Hydraulic and Pneumatic components
Metal Processing, Parts & Components
Services (R&D, training, engineering, consultancy, …)
In February 2014 Geodesy Ltd. which has a long tradition in the geodetic industry was purchased by Trimble Navigation thus creating Trimble Hungary Ltd. As a member of Trimble group it carries on distributing products previously distributed under the long standing brandname MOM-Geodesy.
Trimble Hungary Ltd. develops and produces devices and accessories required for geodetic measuring instruments and equipment for measurements which represent the highest quality in precision and reliability.
The geodetic range of product offered consists of tribrachs, adapters, prism holders and prisms.
Furthermore the design, production and distribution of outdoor laser data transmission devices have also been the company's main profile for more than 10 years.
Communication devices based on FSO technology enable data transmission (voice, image and internet) between two given points without using optical cables or radio frequency.
From now on Geodesy is carrying on these products under the brand name Trimble FSO. Trimble Hungary Ltd. undertakes high precision assembly in precision mechanics.
The company's scope of activities also includes the production of spherical optic lenses and flat optics/optical components. They are also able to manufacture flat optics, prisms, mirrors, lenses, object glasses and filters that we can equip with optical layer as well. As part of the marketing strategy Trimble Hungary Ltd. cooperates closely with its partners, takes account of their special needs and strives for meeting the highest possible standards.
Design of Mechanical Parts
Trimble can machine various mechanical parts, mostly from stainless steel and light metals. The material can be either in aluminium, copper, brass, or casting, and in the form of billets or bars.
Trimble can perform jobs on its traditional or CNC mechanical machines.
Maximal dimensions are as follows
• Turning: diameter: 3–400 mm
• Length: 10–400 mm
• Milling: 450×200×100 mm
• Dimensional tolerances: F/f 6, G/g 6, H/h 6
Surface-treatment
• Powder-coating: according to required colours
• Anodizing: black and natural
• Etching
Measuring-techniques
Trimble performs its control-measurements in its own lab with modern equipment suited to the purpose.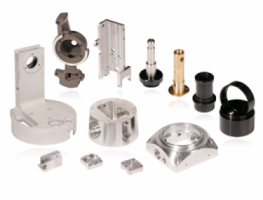 Trimble Hungary Kft. (GeoDesy Ltd.).
Hungary, 1116, Kondorfa utca 6–8. , Budapest, Hungary
+36 1 481 2050 
+36 1 481 2049
info@geodesy.hu