Categories
Mechanical, Electro-mechanical, Hydraulic and Pneumatic components
MECANDECOUPE S.A., is a mechanical company of precision specialized in the manufacture of small and average series and this within very short times with a service reactive and personalized for each one of our customers.
Our company is young, indeed there is 6 years manpower was of 4 people to date we have 20 people at your disposal in the various services of the company, which shows our enthusiasm to answer in all points its customers. Mechanical machining is the principal activity of the company, a powerful park machines enables us to complete work of turning, milling, drilling, planing with conventional machines or CNC according to needs'.
A department complete Sheet-iron works-Boiler making our means of productions. Our pallet to know to make is extended, that goes to machining, repair, the transformation, or the creation of mechanical sets.
Thanks to our department Seeks & Développement equipped with powerful graphic softwares we can propose to you on the basis of sketch simple your part, which you can visualize in 3d with the screen this contributing to a good mutual comprehension. This fact we can propose to you a help with creation for your projects and deliver finished products to you.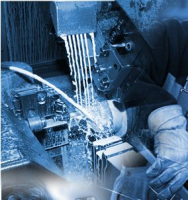 Mecan-Decoupe S.A.
8-10 Rue du Pre-Bouvier, Meyrin, Switzerland
+41 22 782 28 00
+41 22 782 28 37
info@mecan-decoupe.ch