Categories
Aircraft, Helicopter, UAV, Spacecraft & related equipment
Metal Processing, Parts & Components
Services (R&D, training, engineering, consultancy, …)
Technometra Radotin, a.s., is a manufacturer of landing gears, control blocks, hydraulic units, actuators and other assemblies for aircrafts and helicopters. The company has a high-quality technological base comprising all workplaces and services necessary for development, production, sales and support of its product. Is a joint stock company, 100% owned by Aero Vodochody a.s., the largest aviation manufacturer in The Czech Republic.
Technometra Radotin, a.s. has a well established and certified Quality Management System according to AS 9100 and ISO 9001 and is a holder of all relevant certificates of the company as a whole as well as all individual processes.
Quality Assurance:
Conventional measuring equipment
3D measuring equipment (CMM machines)
Hardness tester
Microscope
Non-destructive testing
Spectroscope
Rollscan
Contact info #1
martin.honig@technometra.cz
Vrazska 239, 153 04 Prague 5 – Radotin, Czech Republic
LANDING GEAR SYSTEMS
Development, manufacture, testing, maintenance and servicing of stationary and retractable landing gear systems
Manufactured for small and middle-sized military as well as civil aircraft
Designed to land on unpaved strips (grass or sand)
Using advanced aeronautical materials, such as aluminum alloys and stainless steel
Long service life with no defect ever
Delivered for varied portfolio of aircraft types, e.g. MiG-15/19/21, L-29/39/29/159, Ae 270, L-200, L-410, VUT-100 or EV-55
CAPABILITIES
Design
Design (CAD model, Drawings)
Fatigue analysis (cooperation with Aeronautical Research and Test Institute)
Reliability testing
Determination of test conditions according to the requirements of FAR
Evaluation of test results
Tools: SolidWorks – CAD model, drawings
Cosmos – FEM analysis
Nastran / Patran – FEM analysis – VUT Brno
Technology
Manufacturing process designing
NC programming
Jigs designing and manufacture
CAD: SolidWorks
CAM: SURFCAM
Production
Fleet of 35 CNC machines
All machines equipped with Heidenhein or Siemens control system
Machinery:
• TURNING
- Masturn 32 CNC 2x
- Masturn 50/1500 CNC 2x
- Max Müller MDW 20/3000
- Max Müller MDW 30/3000
- CTX 420
- SPM 16 2x
- SP 30 CNC 2x
- SP 12 NC
• MILLING
- WH 10 NC
- Hermle C800
- Pinacle 950 3-axis 3x
- DMU 100T 3-axis
- DMU 100T 4-axis
- DMU 100T 5-axis
- DMU 80 5-axis 4x
- DMF 220 2x
- FCV 63 NC 2x
- FCQV 63 NC
- V800/2000
- V800/2500 2x
- FCV 120/2 5-axis
- FCV 120/3,2 5-axis
- FCV 160 CNC 5-axis
• Other
- BUAJ 29 NC
- Harbeck M
Assembly
Assembly
Testing o 3D Tests
• Drop Tests
• Pressure Tests
• Strength Tests
Overhauls & Upgrades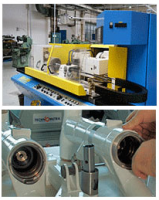 Technometra Radotin a.s.
Vrazska 239, 153 04 Prague 5, Radotin, Czechia
+420 257 195 222
+420 257 195 342
info@technometra.cz