Last Update
December 22, 2016
Categories
Infrastructure, Construction & Civil Engineering
Other Aerospace, Defence and High Technology related companies
Novastructures B.V., is a Dutch based company that provides innovative solutions and services temporary and permanent needs for modular buildings, flooring and infrastructure.
Novastructures is an official Manufacturers Representative for Sprung Instant Structures Ltd. and distributor of Rola-Trac products. Applied throughout the world, the company's proven products are fully re-locatable, environmentally friendly, time saving and cost effective.
Novastructures utilises its unique product lines and expertise to engineer the right solution for clients' application and offer custom design and turnkey service to fit their needs.
Advice and Purchase
Novastructures offers assistance to its clients for the purchase or lease of re-locatable Sprung buildings and Rola-Trac products. This involves verifying clients' requirements and providing advice, quotations and line drawings.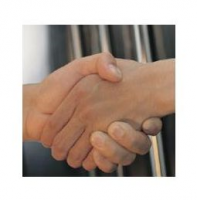 Turnkey Service
Novastructures, is proud of working closely with its customers on all aspects of their building projects. The company is continually striving to meet and exceed their expectations.
Novastructures offers its clients complete 'turnkey' construction service contracts on Sprung Instant Structures and Rola-Trac, consisting of planning, project management, design, foundation engineering, supply, erection and fit out service. A contract can range from applying for planning permission and fire certification through to the supply and erection of the building, foundation works, installation of the of electric, water and gas services, and internal finishes to clients' specification.
Novastructures is a transparent partner and would appreciate any opportunity to work on any current or upcoming projects.
Sprung
Sprung Instant Structures Ltd. is the inventor of the patented Stressed Membrane Structure and has been in business since 1887. With over a century of experience, Sprung Instant Structures manufactures the most reliable, versatile and technically advanced re-locatable enclosures in the world that services both temporary and permanent needs for various building applications.
A Sprung structure is constructed using a lightweight substructure of extruded aluminum arches, connected to stress membrane panels.
Easy to assemble, the Sprung building system is a perfect substitute for conventional bricks and mortar or glass and steel construction but costs approximately one third (full turnkey price) of the comparative price, can be erected in one tenth of the time and lasts upwards of 30 years.

APPLICATIONS

Superior Quality
The Sprung structure is the result of over three decades of research and development. It is constructed using extruded aluminum arches connected to a flame retardant membrane.
The structures can withstand high wind loads and shed snow.

Various Applications
Aircraft hangars & vehicle garages
Warehousing
Dining facilities
Recreation & theatre facilities
Maintenance facilities
Border control units
Airport terminals
Field hospitals
From the Arctic to the Equator
Sprung structures are designed to withstand extremely high winds, to shed snow and to provide a sealed environment against harsh conditions. If required, up to 30cm of insulation can be installed to provide protection against extreme heat or cold weather.
TECHNICAL INFO

Extruded Aluminum Substructure
Highly versatile alternative to steel
Manufactured from the highest quality products and materials
Substructure provides a high strength weight ratio
Cost-effective, lightweight and easier to assemble
Exceptional adaptability and life expectancy
The structures show a remarkable resistance to earthquakes
30 year pro-rata guarantee
Premium Tedlar Coated Membrane
Weighs approximately 0.8 kg/m2
Tedlar exterior protective film guards against UV and airborne contaminants
Highly dirt-resistant self-cleaning surface is unaffected by acid rain
Withstands extremely high winds and sheds snow
Fire retardant and chemically inert
Available in a large selection of colours
20 year pro-rata guarantee
Architectural Features
Windows
Roofs with skylights
Entrance canopies & vestibules
Up to 30 cm thick fibreglass insulation
Ventilators & air conditioning
Personnel doors with hoods
Connecting corridors
Cargo doors
Framed openings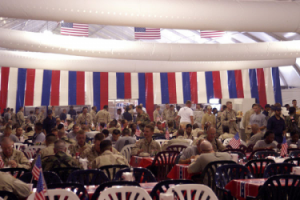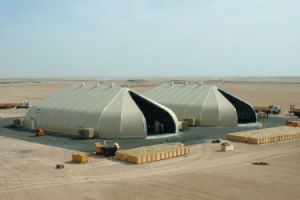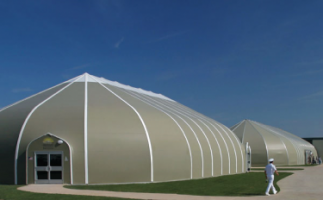 Product informational files
Rola-Trac
TEMPORARY FLOORING
Rola-Trac is the future for temporary hard flooring. It is developed with the user in mind, making it the most straightforward flooring system available. Its unique design allows very rapid deployment with the minimum of manpower and no specialist tools required. Rola-Trac simply clicks together, laid in minutes by hand, taking it up is just as quick.
The structure of the lightweight Rola-Trac tiles allows liquid and light through, avoiding surface water and prolonging the life of sensitive grassed surfaces.
Rola-Trac is great for professional and domestic use. The options are endless: tent/marquee flooring, walkways, patios, pet areas, outside displays, pitch coverings or any use where protection between ground and user is required. Easily and compact stored, outside or in, for use again and again.

APPLICATIONS

The list of potential applications is extensive; shelter flooring, walkways, storage sites, shed bases, site access.
TECHNICAL INFO

A significant advantage of the Rola-Trac flooring system is the capability of deployment and recovery without the need for specialist tools or expertise.
The unique, freely rotating hinge/clip system enables rapid deployment requiring the minimum of manpower for connection. The Rola-Trac design permits connection at right angles to itself; connection can also be offset to allow angled corners in pathways.
Ready for deployment in roll or slab form, Rola-Trac will provide the maximum hard flooring surface for the minimum logistics footprint.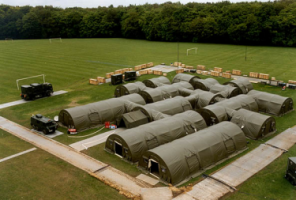 Product informational files
Supa-Trac
Supa-Trac ground covering is a unique product, incredibly durable and flexible.
Supa-Trac creates a firm surface for roadways, walkways or heavy-duty flooring and can even bridge impassable terrain.
The strong, non-slip, high impact panels will support considerable loads.
Able to support vehicle traffic up to 3.5 tons per axle or static loads up to 80,000 kg/m2, enabling it to be utilized for a wide range of additional logistic support tasks.
The lightweight panels are easy to handle and need no tools or specialist expertise. A vehicle park or access road can be laid in hours and then left for as long as necessary.
Temporary car parks constructed with Supa-Trac are exempt from planning permission.
Supa-Trac applications also include Helicopter-Pads for brown-out suppression, air base infra, helicopter shelter flooring, logistic parks and vehicle parking.
Supa-Trac is excellent for environmentally sensitive areas. Each panel allows light, air and water to the ground below. Supa-Trac requires no maintenance, and can be easily cleaned.
Store it compact inside or out for years of flexible use.

APPLICATIONS

Supa-Trac applications include:
Heli-Pads for forward area support
Heli-Pads for brown-out suppression
Air base infra
Helicopter shelter flooring
Logistic parks
Hard standing areas
Vehicle parking

TECHNICAL INFO

Made from Polypropylene (PP) or a composite of graded & recycled
Tile size: 966 mm x 275 mm x 34 mm
4.76 panels per m2 (135 panels per pallet)
Panel weight: 2,025 grams (9.7kg/m2)
Static load support: 80,000 kg/m2
Vehicle support: 3,500 kg per axle
Resistant to oil & petroleum derivatives
Available in standard colours; Black, Grey & White. Other colours upon request.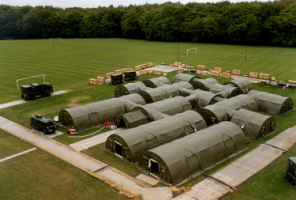 Product informational files
Novastructures B.V.
Mailing: Postbus 1016 2280 CA, Rijswijk , The Netherlands
+31 (0) 70 415 1146
+31 (0) 70 415 4009
info@novastructures.com