Last Update
September 14, 2018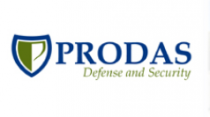 Categories
Services (R&D, training, engineering, consultancy, …)
Consultants for Nation-Level Defence & Security business
Prodas Defence and Security is a Defence related consultancy organisation who can consult and advise companies in their business ventures with the Netherlands Armed Forces and can mediate in negotiations.
Prodas assists the Defence Industry, and related industries, in their efforts to do business with the Netherlands Armed Forces and overcome possible difficulties with respect to understanding operational needs and specifications, as well as procurement procedures and differences in business cultures.
Prodas has an extensive and successful track record in guiding her clients in every aspect of a project: from the first point of contact with the armed forces, via all phases of the procurement and negotiation procedures, until the last stage of the logistic support of the product's life cycle.

Prodas management has almost 25 years experience in the international Defence Industry business.
Our unique advantage is the ability to lead a company throughout every level of the decision making process of the Ministry of Defence, whether it is technical, political, or military.That all in combination with high level of technical and commercial knowledge. Prodas also provide assistance in Dutch Industrial Participation (OffSet) and offer logistical support.
Prodas keeps in close contacts with many officials in the military and political arena around Defense Procurement Projects.Prodas has a widespread network ranging from those who plan the needs of the Netherlands Armed Forces, to those who specify these needs, along every level of decision making.

Prodas follows a very high standard of business ethics in all it's business. All activities are and will be done according to the rules of law, the regulations in the ministry of Defence and according to normal business ethics standards.
PRE-PROJECT
Inventoring Requirements
In the period preceding an actual project we follow all the upcoming needs of the Netherlands Armed Forces. We are able to be informed about new requirements in an early stage through our extensive network. This gives us the opportunity to inform our clients about relevant new projects before competitors are aware of them.

Introduction of your Company
In addition to making you aware of the latest opportunities, we can make the Netherlands Armed Forces aware of your company. We can introduce the possibilities of your company to the right people in the Netherlands Defence Organisation, so that in case of new projects your name will be first on their list.
PROJECT PHASE
Lobby for your Project
Prodas can use its wide-ranging network to see to it that your company will be granted the project. We can assist you in the obtainment of a project by using our network, and the ability to promote your product or service to every level of decision making in a project.

Assistance in Negotiations
We will support and assist you in the actual procurement and negotiation phase. We can advise in purchasing regulations, standards and procedures. Furthermore, Prodas can ensure that your company has a positive relationship with the Ministry of Defence. We can help overcome any cultural differences which could jeopardize negotiations and harm the project. Also, through this positive atmosphere we can work together with the Netherlands Armed Forces to gain political support for major Defence projects.

Offset Management
When delivering to the Netherlands Armed Forces, foreign companies are required to fulfil certain offset requirements in order to establish Dutch industrial participation. Prodas can inform and advise you about the specific procedures and regulations on direct and indirect offset, and assist you in fulfilling these necessary obligations.
In addition, we can demonstrate your commitment to offset to the Ministry of Defence and the Ministry of Economic Affairs, which will give you an advantage over any competitor.
AFTER CONTRACT
Assistance in the Organisation of After Sales Documentation
Prodas will assist your company in the after sales phase of the project. We can assist and advice in the necessary documentation, and the translation of these documents.

Assistance in the Organisation of Logistics
Furthermore, we can assist in the organisation of the logistical component of the project, which includes maintenance, spare parts, and warranty issues. Furthermore, Prodas can assure a good working relationship between your company and the Netherlands Armed Forces thus ensuring a smooth transition of products and support services.

Participation in Pre-Delivery
Prodas can assist and advice in any pre-delivery meeting or activity, such as design reviews, tests and trials, and the attainment of Certificates of Conformity. We can inform about regulations and procedures, and lobby for a good relationship with your customer which will lead to favourable results for both you and the Netherlands Armed Forces.
PRODAS Defence and Security B.V.
Anna van Buerenplein 272, 2595 DE, Hague, The Netherlands
+31 70-750 8320
+31 70 750 83 24 
info@prodasdefence.com