Last Update
August 31, 2018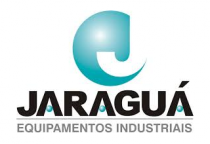 Categories
Infrastructure, Construction & Civil Engineering
Mechanical, Electro-mechanical, Hydraulic and Pneumatic components
Metal Processing, Parts & Components
Services (R&D, training, engineering, consultancy, …)
Jaragua Equipamentos Industriais, was born in 1957, - as a Brazilian company with German capital - in Vila Leopoldina, Sao Paulo, its main activity being capital goods production. As a factory of factories, Jaragua has always sought to look ahead, always keeping an ethical and responsible behaviour.
For over 25 years Jaragua produced in its Vila Leopoldina facility all kinds of equipment for base industry, supplying - even at that time - to the largest Brazilian companies, such as Petrobras. During that period, Jaragua developed pari passu, its design engineering and construction area. The Company was doing quite well and growing at a rapid pace, following the tracks of Brazil' s industrialization during the 60's and 70's, always keeping a close view to quality of the products, as well as to technological improvement and development of its human resources.
With increasing market demand, the need for physical expansion of Jaragua became imperative. In Sao Paulo, the neighbourhood where it was located seemed insufficient to allow further expansion. This context was critical to Jaragua decision of acquiring in 1973, a tract of 234 thousand m2 in the city of Sorocaba (about 80 km from Sao Paulo) along the road Castelinho, for the construction of its new plant. The move to new headquarters in Sorocaba, took place in 1981.
Contact info #1
joao.ribeiro@jaraguaequipamentos.com
Av. Jaragua, 300, Sorocaba, ZIP Code 18087-380 - SP – Brazil
Contact info #2
alice.lara@jaraguaequipamentos.com
Av. Jaragua, 300, Sorocaba, ZIP Code 18087-380 - SP – Brazil
AREAS OF EXPERTISE
Turn-Key: Building complete plants
Jaragua Equipamentos highlights its skills in the supply of plants under a Turn-Key system. Under this model of contract, the company takes full responsibility for all stages in the implementation of the project, transferring to the customer a plant fully built and ready for operation.
The turn-key contract involves activities from basic engineering, through materials purchasing, production and installation of equipment, quality control, site erection, maintenance, technical assistance and operator?s training. Every stage of this process is supported by the appropriate technological resources, as well as by a modern project management system and a team of technical experts, highly qualified to meet the needs of the client.
OIL & GAS
To get the fuel that drives a car, a long way is required, beginning with oil exploration, extraction and refining. It is just in this chain of transformation that the Jaragua is present.
The company participates in the project both in down stream and up stream phase, supplying various high-tech equipment such as heat exchangers, reactors, oil and water separators, purifiers, steam generators, heaters, columns, spheres, and furnaces.
Jaragua has also experience in petrochemical furnaces overhauling and revamping, increasing their capacity and adjusting them to the demands of environmental standards.
PETROCHEMICALS
Jaragua has an outstanding participation in petrochemical clusters and chemical industries.
Its production range from ovens, condensers, evaporators, heat exchangers, coolers, pressure vessels, plates, distillation columns and reactors, operating in the processing of raw materials, which then will have the most diverse destinations such as plastics, paints, solvents , perfumes, foam, etc..
The company has supplied highly specialized reactors, manufactured using high alloy material, and participated in international biddings.
BIOMASS
With a focus on sustainability, through partnerships with technology leaders, Jaragua offers solutions for the various stages of the production of products derived especially from sugarcane.
Co-generation and generation power plants based on biomass, milling, drying and compression of straw, power plant steam generators and pellet plants are some of the products available. These equipments are designed for increasing efficiency and reducing waste, saving energy and adding value to the final product.
GENERAL INDUSTRY
Jaragua designs, manufactures and overhauls machinery total or partially, components, systems and equipment for industry in general, including plate cutting and bending, welding, non-destructive testing, heat treatment, machining, mechanical assembly and painting.
Equipment and systems such as pneumatic conveying, dust collecting, overhead travelling cranes, silos, weighing systems, bagging systems, dryers, belt conveyors, among others, are produced and overhauled for various industry segments.
INDUSTRIAL CONSTRUCTION
An increase in the supply of plants and equipment on a turn-key basis, led Jaraguá to create a new business unit dedicated to industrial construction. In that way, by having the workforce directly under its responsibility and by adopting updated and effective management tecniques, we can keep site activities under strict control.
CLIENTS
BRASKEM
BR- PETROBRAS
ALUNORTE
OXITENO
THYSSENKRUPP
BANIA PULP
VALE
ALUMAR
VOTORANTIM
QUATTOR
Jaragua Equipamentos Industriais
Av. Jaragua, 300, Sorocaba, ZIP Code 18087 380 SP, Sao Paulo, Brazil
+55 15 2102 9000
+55 15 2102 9090