Last Update
September 13, 2018
Categories
Composites, Plastics & Rubber
Maintenance Repair Overhaul and Logistics Support
Mechanical, Electro-mechanical, Hydraulic and Pneumatic components
Metal Processing, Parts & Components
Services (R&D, training, engineering, consultancy, …)
FIMES, a joint-stock company Uherske Hradiste is a subsidiary of a joint-stock company MESIT Holding, which is group of 13 companies connected in terms of capital and technologies.
The production programme of FIMES, a.s. has gradually developed towards the most sophisticated products in the respective production areas:
Production of technologically demanding thin-section precision castings made of aluminium alloys and precision castings made of steel and non-ferrous metals.
Production of moulds for plastics moulding and moulds for metal casting.
PRODUCTION OF MOULDS
For injection moulding of plastics
For pressure die casting of metals
For investment casting
Repairs and maintenance of moulds
Fixtures and precision machined parts
Production of tooling
Consulting
PRODUCTION OF CASTINGS
Rapid prototyping
Investment casting using lost wax process
Machining and finishing of castings
Consulting
Contact info #1
Sokolovska 573, 686 01 Uherske Hradiste, Czech Republic
MAINTENANCE AND REPAIRS OF MOULDS
In addition to the production of new moulds for the injection moulds of plastics and metal casting, FIMES also offers maintenance and repairs of moulds (including the preventive repairs) already operated by plastics press shops and foundries.
Through the contractual plastics press shops, we can also supply our customers with moulded plastic parts.
The company also offers the production of prototype parts produced on the CNC milling centres.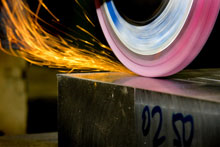 MOULDS
Moulds for injection moulding of plastics
Press and injection moulds for thermoset and rubber
Moulds for pressure die and gravity-die casting
Moulds for wax patterns
- Surface treatment of castings by blasting (glass beads, corundum, blasting grit)
- Heat treatment of castings (hardening, annealing, and refining)
- Mechanical treatment and calibration
- Machining on the conventional and CNC machines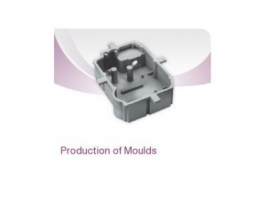 CASTINGS
FIMES produce precision castings by the method of lost wax process from aluminium, copper, and steel alloys, gravity-die castings, pressure die castings made of aluminium, and moulds for production of wax patterns.
The weights of produced castings are within the range of 1 g to 3.5 kg. The usual accuracy of our precise castings is in compliance with ČSN 014470, which is equivalent to the German standard VDG – P690. Depending on the type of the design of castings, we are able to produce castings with the minimum wall thickness of 1.8 mm.
The maximum dimension of investment and gravity-die castings can be approximately 300 mm. The total area of pressure die castings in the mould parting line is limited to approximately 150 cm2. We are able to provide the production batches of 10 to 100,000 pieces. Our lead times are 2 to 10 weeks, depending on the complexity of castings.
MACHINING
The production uses the following technologies: conventional machining, basic operations of metal heat treatment including hardening in the controlled atmosphere, CNC machining (including the 5th axis), EDM die-sinking and wire cutting of metals.
Only some, less frequently occurring, technological operations are provided through specialised companies (special hardening, nitration, hard chromium plating).
WORKING MACHINES
CINCINNATI MILACRON SABRE 750
CINCINNATI MILACRON ARROW 750
CINCINNATI MILACRON ARROW 500
DECKEL MAHO DMU 60T
AZK HWT D-442
HERMLE C 40 U
ELECTROSPARK MACHINES
DIETER – HANSEN 450
INGELSOLL GANTRY 500
ZIMMER – KREIM 850
CHARMILLES ROBOFORM 35
FANUC α-OiCp
AGIE DEM 315
YOUNG TECH YT-2030
CO-ORDINATE BORING MACHINES

CONVENTIONAL MACHINE TOOLS

HEAT TREATMENT EQUIPMENT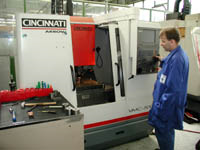 PRECISION CASTING
Construction of moulds, castings and CNC programs for machining are done in the UNIGRAPHICS - system.
Thanks to the modern 3D printer Dimension SST we are able to produce prototype patterns by the metod of Rapid prototype.
Production of wax patterns proceeds on modern injection preses with the usage of hard waxes.
For the a coating of wax patterns is used a robotic line.
Fimes a.s.
Sokolovska 573, 686 01, Uherske Hradiste, Czechia
+420 572 522 699
foundry@mesit.cz