Last Update
September 12, 2018
Categories
Metal Processing, Parts & Components
LPC, is an Israeli based advanced manufacturing technologies company that has established itself as a market leader within the metal sheet Cutting and processing industry. LPC has been supplying high-quality, precision Fabricated and finished component parts.
LPC provides comprehensive solution from design and engineering to the execution of the Finished delivered part or product.
From machining to complete finished assemblies, prototypes through production runs, using materials from plastics to exotic alloys, LPC has the ability to serve its customers with:
• Laser Cutting
• Abrasive Water jet Cutting
• Forming
• Welding - MIG, TIG
• Design
• Custom Parts
• Project Management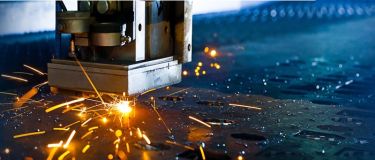 Services
• 24 Hour service
• Same day quotes
• Engineering and design assistance
• Reverse Engineering
• Assembly & Inspection
• Full turn key projects
High-quality precision parts
LPC serves a wide rang of industries and different applications such as:

• Defence
• Automotive
• Machinery and Equipment
• Electrical & Electronics
• Construction
• Food and Beverage
• Glass
• Graphic Arts
Laser Cutting
Laser Cutting is a process by which complex outlines can be cut in sheet metal in an accurate manner. The laser cutting process can produce external complex features easily.
LPC specialize in cutting by laser technology almost any material up to 25 mm thickness.
Abrasive Water Jet Cutting
Abrasive Water jet Cutting employs high pressure water with abrasive materials as the cutting medium. Benefits include:

• 5-axis control
• No heat input and no recast
• Ideal for non-metallic and super alloys
• Thick cross sections (up to 80 mm)
• Low distortion
Forming
LPC use Conventional and servo-hydraulic press brakes machines. We offer a broad range of forming capacities with different tonnage requirements.
Welding - MIG, TIG
LPC has the ability to MIG and TIG welds both aluminum and stainless steel. LPC can solder, braze, sand blast, and passivate to your specifications.
Design
LPC offers design and prototyping services and can also recommend design modifications to improve performance or reduce cost.
Custom Parts
LPC can design, fabricate, paint, and assemble all of your custom cabinet and enclosure needs.
Project Management
LPC organizing and managing resources, people, equipment and facilities in such a way that your project is completed within defined scope, quality, time and cost constraints. LPC support its customers with its own capabilities and its wide range of strategic partners to create a unique product or service, which brings about beneficial change or added value.
LPC Metal Design Ltd.
PO Box 7046 HaRoach 75, Migdal Haemeq, Israel
088681919
08-8637820
sales@lpctec.com