Last Update
August 31, 2018
Categories
Electrical, Electronics & Electro-optics
Services (R&D, training, engineering, consultancy, …)
AREA SEGURA (INGENIERIA ELECTRONICA Y TELECOMUNICACIONES) S.A.S., is a company specialized in the provision of electronic security and telecommunications solutions in Colombia. AREA SEGURA S.A.S. designs and develops electrical and electronic systems and offers consulting, design, installation, implementation and technical support services to the general industry.
The Company provides solutions related to:
CCTV (Close Circuit Television) systems,

Alarm systems,

Perimeter detection systems,

Vehicular Access Control systems,

Pedestrian Access Control systems,

Time & attendance systems,

Training in electronic security,

Telecommunications systems,

Data network systems,

Structure cabling systems,

LAN/WAN networks systems,

Tour patrol systems,

Electrical substations,

Transmission lines and power distribution,

Electrical industrial installation,

Electrical and electronic design.
PHILOSOPHY
The Company's goal is to provide integral security solutions tailored to customers' needs.
MISSION
The Company's mission is the design and development of electronic security and telecommunications systems, staying at the forefront of technological advances.
VISION
AREA SEGURA S.A.S. aims to become a leading company in the development of electronic security solutions and the design of electronic, electric and telecommunications systems.

Contact info #1
claudiapacheco@areasegura.co
Carrera 26 # 35 - 30 Oficina 201, Bucaramanga, Santander, Colombia
Electronic Security Systems
The Company designs and installs individual and integrated systems of Electronic Security including Closed Circuit Television, access control for vehicles and people and intrusion and fire alarms. AREA SEGURA S.A.S. is specialised in hidden cameras installation.
AREA SEGURA S.A.S. has professional tools for the installation of advanced security systems, including design, software and electronic measurement tools.
Structured Cabling, Data Networks & Electrical Installations
The Company is equipped with electrical and electronic engineers for the design and installation of data networks and industrial and residential electricity networks. AREA SEGURA S.A.S. offers design and installation of middle and low power electrical substations and diesel power plants.
AREA SEGURA S.A.S. has its own team of engineers dedicated to the upgrading of old diesel power plants. This team collects information on temperature, RPM, water of refrigerant, three-phase voltage, current consumption and power. It has an automatic voltage regulator and a start-stop system. This device works on any power plant and can be monitored using GPRS.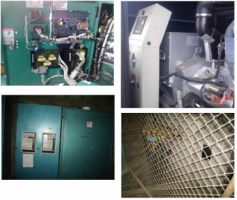 Electronic Circuits Assembly
AREA SEGURA S.A.S. has a complete laboratory and production line for the assembly of any kind of electronic circuits, including SMD and DIP technology, microcontrollers' configuration, FPGA, CPLD and other digital circuits for multiple applications.
The Company has electronic engineers specialized in hardware design and customised projects. The production capacity depends on the size of the circuit and the number of components that come from distributors from the United States, Brazil and China.
The laboratory is equipped with oscilloscopes, multimeters, welding stations with variable temperature, welding stations with hot-air digital variable temperature and other industrial equipment to ensure the product quality.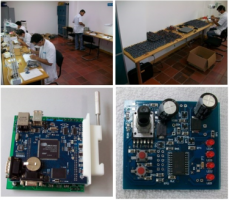 Software Development
AREA SEGURA S.A.S. offers software solutions tailored to the needs of each client and are related to:
Access control,
General schedule management,
Software for veterinary medical centers.
Any software for industrial purposes in any programming language.
AREA SEGURA S.A.S.'s software solutions allow great flexibility and reduce costs associated with licensing.
The Company is able to develop any enterprise-level software based on Windows, Linux or mobile devices.
Stimulator for Muscle Strengthening
It is a device designed under the strictest quality and safety standards. The Company has consulted physiology doctors from the laboratory of neuroscience of the Industrial University of Santander and physiotherapists from the Fundación Universitaria María Cano of Medellin.
The muscle stimulator has four (4) operating levels: Low, Medium, High and Automatic.
Proven benefits of the muscular stimulator:
Greater and more rapid muscle increase,
Greater muscular volume,
Excellent therapy to help decrease fat percentage,
Its train of waves was designed to achieve large contractions at a preferred level,
Its size makes it portable and easy to use.
The device uses pre-gel electrodes to ensure an even distribution of current and a comfortable feel on the skin. The carbon film electrodes do not provide a uniform distribution of current and it is necessary to use a conductive gel. Over time, the distribution can cause undesirable irritation and skin burns. This can be avoided with pre-gel disposable electrodes.
Modular Embedded System for Signal Processing
The platform is developed based on SBC embedded systems and is oriented towards acquisition and signal processing applications.
FEATURES
Hardware:
Power supply: 24 V DC/12 V DC,
Power Consumption: Less than 500 mA, no peripherals,
Port modularity,
Communication ports: 2 RS-232, 2 USB, 1 Ethernet, PS2,
Storage: At least 2 GB,
Processor: At least 133 MHz, 32 Bits,
RAM: At least 256 MB,
DSP: For filtering and signal processing,
VGA video output,
R/O ports: 16 I/O, including digital.
Software:
Operating system: GNU/Linux,
Routines: Basic software for acquisition and communication routines.
Benefits & Facilities:
The advantages of the device referred to above are:
Low power consumption: In order to facilitate the supply of renewable energy sources, e.g. solar cell energy, which is very common in rural measurement sites with no access to electricity.
Modularity and adaptability: If more ports are needed, peripherals could be attached to the main board in order to meet application requirements.
Signal acquisition and conditioning: The process is able to filter, quantify and linearize input signals.
Signal transmission and reception: The platform has the ability to communicate across data buses using a number of different protocols.
Drive: The platform receives orders and based on a number of conditions it enacts the related digital outputs.
Adapting to new technologies: Being a free platform and supported on a high-end operating system (GNU/Linux), it is possible to add new protocols and control schemes.
Interaction with the operator: the VGA port allows the operator to view the internal processing of the card. PS2 and USB ports can be coupled to a mouse or a keyboard matrix,
It allows cabinet-rail mounting.
Additionally, the platform is able to:
Use resident software for operation and device configuration.
Allow remote access for online configuration,
Configure multiple devices at once.
Features that make it superior:
This embedded system is characterized by the fact that it is based on a free platform, giving customers the freedom to program, maintain and even modify the device according to their specific needs.
The following features emphasize why AREA SEGURA S.A.S.'s embedded system is superior:
Free technology that allows updating and can be specially designed according to customers' specific needs,
Continuous improvement of the software, through provision of new programs and adhesions of other technology developments that allow platform strengthening,
Low cost and easy programming,
Easy and simple operation and maintenance.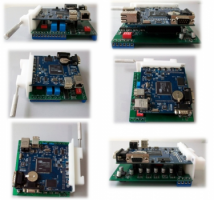 Automatic Voltage Regulator (AVR)
The automatic voltage regulator is a voltage control device capable of adjustments as far as gain, response speed and stability of the related equipment.
Technical Characteristics:
Voltage output 0-65Vdc with a variation of 0.5%,
Input voltage 150 - 280VAC,
External potentiometer voltage required positioning,
1 year warranty.
There are many automatic voltage regulators available in the market. The best known is the Caterpillar (AVR6 and Avr3). The big difference is that there is no warranty if not installed by authorised personnel. These AVRs are foolproof and can be installed by the customers themselves.
These devices are installed on single or three-phase electric generators with a capacity of up to 2MVA.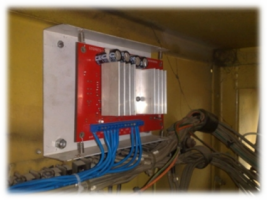 Suppliers
Lince Comercial S.A.
Products: CCTV, SAMSUNG, BOSCH, Access Control Systems, HID, ZEBRA, ROKONET, DITEK, NITEK, GARRETT, BIOSCRYPT, AXIS, DSC, Perimeter Security Products.
Address: Av. 5 AN No. 50- 20, Cali, Colombia.
Phone: +57 2 680 1111
Contact: Diana Milena Moreno - dianamilena@lincecomercial.com
Grupo KSG - SAC Seguridad Automatización y Control S.A.
Products: CCTV, SAMSUNG, BOSCH, Access Control Systems, HID, ZEBRA, ROKONET, DITEK, NITEK, GARRETT, BIOSCRYPT, AXIS, DSC.
Address: Cl 97 # 23-60, Piso 2, Bogotá, Colombia.
Phone: +57 1 487 1999 Ext. 1603
Contact: Hugo Medina - hmedina@sacseguridad.com
SEAL LTDA.
Products: Electronic components and laboratory supplies.
Address: Cra 21 # 19-45, Oficina 15-02, Bucaramanga, Santander, Colombia.
Phone: +57 7 683 2434
Contact: Oscar Navas - onavas@sealibre.com
Clients
Among AREA SEGURA S.A.S.'s clients are:
MOLINOS EL YOPAL LTDA.
Service: System CCTV - Data Cabling - Electrical Installation of secondary distribution boards.
Address: Cra 5 # 27-60, El Yopal, Casanare, Colombia.
Phone: +57 8 635 7482 - 83, +57 8 623 56492 - 93
Contact: Rosa Margarita Serrano - margaritas@arrozcasanare.com
HOTEL JORLÍN
Service: CCTV System.
Address: Cl 18 No. 19-56, Bosconia, Cesar, Colombia
Phone: +57 5 577 8233 +57 320 542 5457
Contact: Jorge Patiño - surtitiendasbosconia@hotmail.com
FAJATE DISEÑOS D'PRADA
Product: Device for muscle strengthening.
Address: Cl 9A # 75A-28, Medellín, Antioquia, Colombia
Phone: +57 4 448 0750
Contact: José Giovanni Pacheco – jg.pacheco@fajate.com
UNIVERSIDAD INDUSTRIAL DE SANTANDER (UIS)
Service: Design and installation of multiple access control systems.
Address: Cl 9 carrera 27 ciudad Universitaria, Bucaramanga, Santander, Colombia
Phone: +57 7 63 44000 Ext. 2368
Contact: Dr. Gilberto Carrillo – gilberto@uis.edu.co
MOTORES Y COMPRESORES LTDA.
Service: Design and installation of Closed Circuit Television.
Address: Cl 47 # 32-25, Girón, Santander, Colombia.
Phone: +57 7 646 5697
Contact: Henry Blanco - motoresycompresores@hotmail.com


SUPERINTENDENCIA DE SOCIEDADES SECCIONAL BUCARAMANGA
Service: Structured cabling, electrical data and grounding systems.
Address: Cl 41 # 37-62, Bucaramanga, Santander, Colombia.
Phone: +57 7 632 1544
Contact: Marta Solano - msolano_gutierrez@hotmail.com
Area Segura (Ingenieria Electronica Y Telecomunicaciones) S.A.S.
Zona Franca Santander - Km 4 Anillo Vial Floridablanca - Edificio Baiachala - Oficina 605, Bucaramanga, Colombia
+57 (7) 6388232
info@areasegura.co