Last Update
September 3, 2018
Categories
Mechanical, Electro-mechanical, Hydraulic and Pneumatic components
Metal Processing, Parts & Components
Military, Tactical, Logistic Support Vehicles & related equipment
Services (R&D, training, engineering, consultancy, …)
C.I. COLAUTO S.A.S., is a privately held company located in Colombia, dealing with the design and manufacture of metal-mechanic components for original equipment car and motorcycle manufacturers. The Company is owned in its majority by Si3, a wholly owned subsidiary of American Automotive Parts LLC, a US holding company of regional parts manufacturers.
C.I. COLAUTO S.A.S. specializes in the design and manufacturing of OEM car and motorcycle parts, such as pipe fittings, die cutting parts, metal stampings, and metallic parts in general. The Company complies with the quality standards of and is a significant provider for automotive companies, such as Toyota, Renault-Nissan, Mazda, and General Motors.
MISSION
C.I. COLAUTO S.A.S. is committed to the provision of integral solutions to the metalworking industry, in competitive prices and under the highest quality engineering standards. The Company is committed to customer satisfaction through timely delivery and continuous improvement of processes.
VISION
C.I. COLAUTO S.A.S. aims to be recognized nationally and internationally as an efficient supplier of integral and profitable solutions for the metalworking industry.
C.I. COLAUTO S.A.S. is certified under the following certifications:
ISO 14001:2004 for Environment Management,

TS 16949:2002 for the Automotive Industry,

ASES - Alliance Supplier Evaluation Standard by Renault,

ASES - Alliance Supplier Evaluation Standard by Nissan,

Commitment to the Management Model for Competitiveness by General Motors and Sofasa,

ISO 9000:2000,

OHSAS 18000 (in process).
Contact info #1
CL 50 # 40 – 62, Itagui, Antioquia, Colombia
MACHINING SERVICES
C.I. COLAUTO S.A provides a wide range of welding processes, including resistance and projection welding, as well as other machining services, such as die cutting and broaching services, meeting the demanding needs of the metalworking and electric industries. The experienced and trained personnel ensure product quality at every stage of the manufacturing process.
OEM AUTOMOBILE PARTS
C.I. COLAUTO S.A. manufactures automotive parts for major vehicle assemblers, applying strict quality standards. The Company designs and develops mechanical jacks, brackets, clamps, pedals, plates, covers and other automotive parts, involving the most advanced technology from the designing to the manufacturing stages.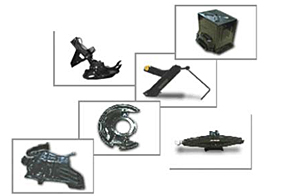 OEM MOTORCYCLE PARTS
C.I. COLAUTO S.A. manufactures motorcycle parts for major motorcycle assemblers, such as AUTECO-KAWASAKI, YAMAHA and SUZUKI MOTORS COLOMBIA, among others. The Company provides motorcycle solutions, such as:
Seat bases,
Chassises,
Wheels,
Bearings,
Jacks,
Footrest rubbers,
Chain guards,
Handle grips,
Pedals,
Motorcycle stirrups.
TOOLING & CNC PARTS MAUFACTURING
C.I. COLAUTO S.A. designs and manufactures equipment and parts for Computer Numerical Control Programming – CNC, such as molds, dies and machined parts in general, on different platforms, such as AutoCAD 2002, Autodesk Mechanical Desktop, Autodesk Inventor R5 Rhinoceros 2.0 and SmartCam FreeForm Machining.
METAL PULLEY MANUFACTURING
C.I. COLAUTO S.A. manufactures and assembles pulleys mostly used for banana transportation. The Company produces several high quality pulley models, made of cast iron or steel, with special reinforcements.
ENGINEERING SOFTWARE
C.I. COLAUTO S.A. is equipped with the most advanced software, so as to be able to provide high quality machining services:
AutoCAD 2002,
Solid Works,
Autodesk Inventor R5,
Rhinoceros 2.0,
Sprite Software 2009,
Mastercam CAD/CAM software,
PowerInspect Software,
VX Scan Software,
3 – Matic Software,
GeoMagic Studio,
RapidForm,
Solid Edge,
SmartCAM.
MACHINING EQUIPMENT
C.I. COLAUTO S.A. has machinery of the latest technology for the execution of high quality machining services:
Hydraulic Shearing machine (1),
Circular metal saws (5),
Hydraulic pipe benders (2),
Roller machines (2),
Multi Ton Presses,
MIG welding equipment (15),
Spot Welding Equipment (6),
TIG welding Equipment (1),
CNC Lathes (4),
Plane Grinding Machines (2),
Vertical Machining Center CNC (4),
Wire Cut EDM machine (1),
Broaching Machines (1),
Drilling Machines (4),
Thread Rolling Machines (3),
Painting equipment,
Powder Coating Application Equipment,
Sandblasting cabinets,
ROMER STINGER IIi (1),
Scan Laser Machine (1).
CLIENTS
Among C.I. COLAUTO S.A. 's most distinguished clients are:
GM Colmotores - CHEVROLET,
SOFASA - Renault - Toyota,
CCA - Mazda - Mitsubishi,
AUTECO - KAWASAKI,
INCOLMOTOS - YAMAHA,
SUZUKI MOTORS - COLOMBIA,
METRO MEDELLIN - SYSTECH,
FANALCA - CHEVROLET,
INDULAMP,
TRANSEJES,
UMO.
C.I Colauto S.A.S.
CL 50 # 40 – 62, Antioquia, Itagui, Colombia
datospersonales@colauto.com.co