Last Update
August 21, 2018
Categories
Electrical, Electronics & Electro-optics
Other Aerospace, Defence and High Technology related companies
Ships, Vessels, Submarines & related equipment
SEAPROOF SOLUTIONS A.S., is a one-stop supplier of:
Water-sealed systems
Cable Termination Systems
Flexible and Dynamic Protection
Seaproof Solutions delivers custom-made systems designed to fit all operations by combining several technologies to meet all particular requirements for functionality, security and durability.
SEAPROOF has years of experience in the following markets:
Marine Seismic
Research
Military
Oil & Gas
Power Generation
SEAPROOF core strengths:
Stable and expert staff - we train employees and like to keep them
Project management concentrates on one client
Cost efficiency for our clients
Trustworthy network of suppliers and partners
Experience - 20 years has taught us how to approach a problem
WATER-SEALD SYSTEMS
Seaproof Solutions has been providing sealing solutions for marine and seismic applications.
Water-sealing systems – combining bonds to metal parts and to the outer sheath of cable – have been used to prevent water penetration into internal electrical wires. The clients got overall protection during deepwater operations.
Seaproof Solutions has an excellent track record; no reclamations, as our bonds guarantee durability and security for client systems.
CABLE TERMINATION SYSTEMS
The company delivers a broad range of connectors and cable systems with requirements for electrical and optical signals, long life cycles and for use above sea level to full ocean depth.
Whether the application is military, marine, offshore oil & gas, marine seismic, research or environmental the company has a reference background and a reputation for sound solutions.
The company's references span from low-cost bulk standard components to special design, from single operation systems to more than 25 years life cycle. Seaproof Solutions has delivered electrical, fibre-optical and hybrid solutions, systems with signal and high voltage power.
FLEXIBLE AND DYNAMIC PROTECTION
Seaproof dynamic Bend Stiffeners protect cable umbilical and flow line systems used in severe conditions, and thereby increase the life cycle of the clients' systems.
The dynamic Bend Stiffener is composed of a mechanical stress termination and a hose that is moulded in Seaproof composite material.
Seaproof delivers custom-made Bend Stiffeners specifically designed to fit the individual client's application. The company can supply single Bend Stiffeners or double-ended Bend Stiffeners, and hoses ranging from smaller single hoses to large-diameter flexible and/or split risers.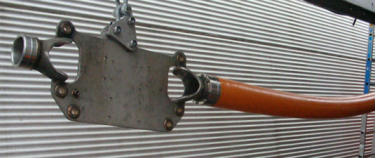 Seaproof Solutions
Sandbrekketoppen 38 5224 , NESTTUN, Norway
+47 55 33 20 50
invoice@seaproof.com