Last Update
January 23, 2017
Categories
Ships, Vessels, Submarines & related equipment
Rescue teams worldwide have certified the hovercraft as the only way to make rapid and effective action on swollen rivers, frozen lakes, swamps, mud, snow, etc. Thanks to air cushion, vehicle is lifted about 30 cm. from the ground, keeping the crew "over the danger", not "INSIDE", allowing access to areas off-limits to boats or even helicopters.
Phoenix Rescue Systems s.r.l. was founded in 2005 as hovercraft design and production centre, combining the proven experience of various professionals in the field of design, automotive, marine and aerospace industries. With the invaluable help from experts in water rescue, fire departments, emergency medical services.
The company was established in the hinterland of Milan (Italy), with offices of 150 sq. m. and 200 sq. m. of warehouse / replacement parts. The production area for the fiberglass / carbon fibre extends over an area of 2500 sq. m., while 500 sq. m. are dedicated to the engine area. The technical office is based in Venice (Italy).
The strengths of the company are: Consolidated background, technological innovation patents filed, Excellent Technical Service, Unmatched industry knowledge, Technical joint with fire/EMS services.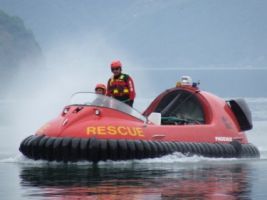 PHOENIX Rescue systems s.r.l.
Via I° maggio n.1/a 20873, Cavenago di Brianza (Monza e Brianza), Italy
+39 333 6455198
+39 2 95339690
info@phoenixhovercraft.com