Last Update
January 11, 2022
Categories
Electrical, Electronics & Electro-optics
Services (R&D, training, engineering, consultancy, …)
CDI S.A., is a Colombian company based in the city of Cartagena in the department of Bolivar, providing services of design, construction, installation and auditing in the fields of electrical engineering, instrumentation and control, mechanical engineering and thermal insulation.
The Company's commitment is to provide the best quality services in order to achieve total customer satisfaction. CDI S.A.'s contribution to the industry goes beyond the development of projects; the Company focuses on preventive and corrective maintenance services, through qualified and specialised technical assistance and the optimum condition of the industrial equipment and machinery.
MISSION
CDI S.A. is an engineering company specialized in the detailed design of electrical installations, the construction, installation and supervision of industrial projects in the electric field, industrial and mechanical instrumentation, thermal insulation and civil projects for electrical and mechanical industrial facilities, serving both local and nationwide companies.
The Company guarantees the complete satisfaction of its customer's needs, providing services under high quality standards, with respect to industrial safety and occupational health and preserving the natural environment in a sustainable and competitive way through the use of highly qualified human and technical resources that contribute to the socio-economic development of the country.
VISION
CDI S.A.'s vision is to become an organization known, both nationally and internationally, for its integral quality services guaranteeing optimal growth.
INTEGRATED MANAGEMENT POLICY
CDI S.A. is an organization that provides integral services that comply with international quality standards, industrial safety, occupational health and environmental protection, satisfying the needs and expectations of its customers and interested parties.
The Company is committed to preventing nonconformities, injuries, disease and environmental impact through the continuous improvement of its integrated management system and thanks to the ongoing detection of threats, risk assessment and control associated with its projects.
The Company manages human, financial and physical resources to create a work environment that guarantees excellence and the improvement of the quality of life and health of its workforce, in compliance with established legal requirements.
Contact info #1
Bellavista Cra 56B No. 7A-45, Cartagena, Bolivar, Colombia
Contact info #2
Head of the Mechanical Department
Bellavista Cra 56B No. 7A-45, Cartagena, Bolivar, Colombia
Contact info #3
Head of the Electric Department
Bellavista Cra 56B No. 7A-45, Cartagena, Bolivar, Colombia
Infrastructure
The Company has the necessary assets for the implementation of its activities, such as:
Trucks,
Pickup Trucks,
Modular Office Containers,
Warehouse Containers,
Arc Welding Equipment,
Welding Generators,
Diesel Generators,
Plasma Equipment,
Oxy-acetylene Equipment,
Grinders,
Hammer Drills,
Magnetic Drills,
Electric Drills,
Hydrostatic Testing Equipment,
Electric Threads,
Hydraulic Punchers,
Hand Taps,
Tripod Tables,
Fluke 744 Process Calibrator,
Fluke 701 Process Calibrator,
Fluke 715 Loop Calibrator,
Fluke Tellurometer,
Fluke Megohmmeter,
Dry Well Temperature Calibrator.
Experienced Professionals
CDI S.A. is equipped with experienced professionals trained by:
SENA instructors for accreditation purposes,
ELCO SEGURIDAD Y SALUD for high-risk activities and electrical hazards.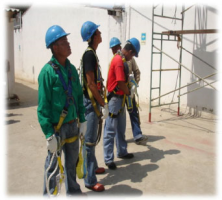 Projects / Completed Jobs
COMPLETED CONTROL JOBS

Design, installation and configuration of PLC control - Demineralizing Plant ECOPETROL.

COMPLETED INSTRUMENTATION JOBS

Instrumentation Installation in Propylene Plant - Refinery.
Control Valves Installation in Propylene Grade Plant - Refinery.

COMPLETED REFRACTORY JOBS

Repair of paper air-drying heating chambers at KIMBERLY CLARK Papeles del Cauca.
Repair of Tecnorec Lead Smelting Furnace in Chile, South America.
Repair of lead smelting furnace at MAC-JOHNSON CONTROLS COLOMBIA S.A.
Repair of Unilever 50,000 lb boiler at UNILEVER.

COMPLETED THERMAL INSULATION JOBS

Removable Thermal Insulation Jackets in Turbo Generators PROELECTRICA.

COMPLETED ELECTRICAL JOBS

Installation of Electric Motors in Demeneralizing Plant - ECOPETROL.

SPECIALIZED SERVICES IN CIVIL JOBS

Footings and Structure for Deaerator SP-DH-2 - ECOPETROL.
Footings and Foundation for Demineralizing Plant - ECOPETROL.

SPECIAL CIVIL ENGINEERING JOBS

• Special cement structures:

- Footing Systems,
- Retaining Wall,
- Tanks,
- Pavement.

Technical Rooms,
Detailed Engineering.

MECHANICAL JOBS COMPLETED

Welding and Pressure Vessel Installation for Water Treatment Plant ECOPETROL.
Company's Clients
REFINERIA ECOPETROL S.A. CARTAGENA,
REFINERIA ECOPETROL S.A BARRANCABERMEJA,
EMGESA S.A.,
PROELECTRICA S.A.,
TERMOCANDELARIA.,
MEXICHEM,
INVENSY S.A.,
TENARIS TUBOCARIBE,
ABONOS COLOMBIANOS,
AGAFANO S.A.,
CABOT COLOMBIANA,
WOOD GROUP,
LAMITECH,
AJOVER S.A.,
TERMOBARRANQUILLA,
CONTINENTAL FOOD,
CONSORCIO PROPILENO,
COTECMAR,
DEXTON,
DOW QUIMICA COLOMBIANA,
AB PROYECTOS,
MERELECTRICA S.A.,
SIEMENS S.A.
CDI S.A.
Bellavista Cra 56B No. 7A 45, Bolivar, Cartagena, Colombia
+57 5 6517077
mercadeoyventas@cdisa.co