Last Update
September 24, 2018
Categories
Composites, Plastics & Rubber
Military, Tactical, Logistic Support Vehicles & related equipment
Services (R&D, training, engineering, consultancy, …)
TI AUTOMOTIVE's subsidiary production company BUNDY DE COLOMBIA S.A., is a Colombian company that provides compartments for the storage of automotive fluids and fluid handling systems, such as brake fluids made of steel and plastic.
BUNDY DE COLOMBIA S.A. is situated in Bogota and focuses on automotive fluid systems, providing economic and environmental friendly fuel solutions for today and tomorrow's demand.
The Company is a competent and capable fluid supplier and a leader in fluid storage, delivery and transportation always in compliance safety and emissions regulations.
BUNDY DE COLOMBIA S.A.'s operations are certified under ISO 9002 and ISO/TS 16949:2002 Quality Management Systems for the manufacture of fluid handling systems, brake fluids and fuels for the automotive industry. It has also an ISO 14001 certification for "Environmental Management System (EMS)". This ensures the quality of its products and its commitment to the environment.
MISSION
BUNDY DE COLOMBIA S.A. has a strong history of collaborative relationships and production supply and is a global manufacturer with a strong footprint in all major countries. The company employs a new management team, following a passionate and responsible operating structure.
VISION
The Company's goal is to commit its integrated global resources exclusively to developing advanced fluid storage systems, enabling customer companies to differentiate their products and be more competitive and creative.
Contact info #1
Carrera 13A 6 98 Monta Industrial Park, Bogota, Colombia
Transport of Fluids in Vehicles
BUNDY DE COLOMBIA S.A. offers fluid transport services to the automotive industry.
Advanced Technology
BUNDY DE COLOMBIA S.A. is equipped with cutting edge machinery in both the administration and production areas. It has also the appropriate tools and equipment for product manufacturing and the necessary maintenance program that guarantees the correct operation of processes. These standards guarantee the high quality of its products.
Specialized laboratories
BUNDY DE COLOMBIA S.A. is equipped with mechanical and chemical laboratories that perform tests on materials in use. The Company is also equipped with specialized equipment, including the CNC (Computer Numerical Control) machinery.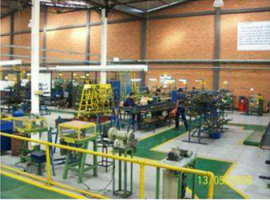 Specialized Engineering Team
BUNDY DE COLOMBIA S.A. has a specialized engineering team consisting of approximately 150 engineers, among which are graduates, technicians and professionals.
Special Production Mode
BUNDY DE COLOMBIA S.A. follows a special production mode on demand for its automotive customers, namely GM, Mazda, Renault, HINO, etc., ensuring the high quality of its products and the commitment to its customers.
Clients
Among BUNDY DE COLOMBIA S.A.'s most prominent customers are:
• GM,
• Mazda,
• Renault,
• Hino.
Bundy Colombia S.A.
4650 Kingsgate, Oxford OX4 2SU, United Kingdom
+44 1865 871820