Last Update
September 4, 2018

Categories
Aircraft, Helicopter, UAV, Spacecraft & related equipment
Services (R&D, training, engineering, consultancy, …)
Established in August 2006 in the Municipality of Bogota D.C., GESSTA LTDA. was created in response to the demand for specialized consulting services in the aviation and industrial sectors.
The Company has the support of a team of experts in strategic aviation management that aim for the complete satisfaction of customers' needs and the successful development of innovative projects. This group is formed by engineers specialized in the aviation sector, with emphasis on quality management systems auditing and airworthiness approvals for Class I, II and III components.
Class I product - a complete aircraft, aircraft engine or propeller which has been type certificated in accordance with the appropriate airworthiness requirements and for which the necessary data sheets and documentation have been issued.
Class II product - a major component of a Class I product, such as wing, fuselage, empennage etc., the failure of which would jeopardize the safety of a Class I product or any part, material or system thereof.
Class III product - any part or component which is not a Class I or Class II product and includes standard parts, i.e., those designated as AN, NAS, SAE, etc.
Contact info #1
francisco.mendez@gessta.com
Calle 52 #71-29, Bogota, Cundinamarca, Colombia
Services
Among the services offered by GESSTA are:
Diagnosis and design of strategies for the administrative management of aviation companies,

Research and market analysis,

Consultancy services on the design and implementation of Quality Management Systems,

Support related to fleet selection and upgrading,

Support related to the inspection and other processes for certification purposes,

Technical assistance in services and activities established with third parties,

Complete or partial "outsourcing" of the maintenance activities, including engineering, supply and purchasing activities,

Implementation of quality management systems, verification audits, preparation for certification processes, technical manuals and awareness programs,

Oxygen System: supply of oxygen directly to the customers' facilities

Ground support activities related to the selection of equipment, aircraft loading and unloading, internal and external cleaning of aircraft, etc.

Support in certification processes, related to:
- Air Operators, Aircraft Repair Stations (TAR) and accreditation of foreign workshops before the Special Administrative Unit of Civil Aeronautics (UAEAC),
- Accreditation of foreign workshops as Foreign Repair Stations before the Federal Aviation Administration (FAA),
- Air Operators, as required by the FAR Part 129.14.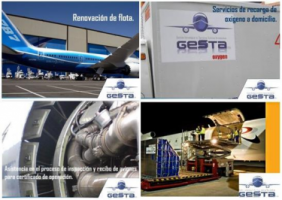 Clients
Among GESSTA's most prominent customers are:
• AIRES,
• LAN CHILE,
• AEROREPUBLICA (COPA COLOMBIA),
• SATENA,
• EASYFLY,
• ARKAS.
GESSTA
Calle 52, No. 71 29, Bogota, Colombia
+57 1 416 8411