Last Update
August 17, 2023
Categories
Ballistic Protection
Metal Processing, Parts & Components
Military, Tactical, Logistic Support Vehicles & related equipment
CENTIGON COLOMBIA, is a Colombian armoring company that belongs to the Carat Security Group and offers complete security solutions to the automotive industry. Combining resources with the tradition of Carat Duchatelet, O'Gara-Hess & Eisenhardt, AMS-Germany (formerly TRASCO), and AMS-France (formerly LABBE), CENTIGON COLOMBIA is benefiting customers by providing high quality customized mobile security services.
CENTIGON COLOMBIA has a more than 130-year operating history in the automotive industry and has been well-positioned in the Cash-in-transit (CIT) industry and the sedan and SUV markets.
More specifically, the Company features world class, independently certified sedans, SUVs and cash in transit vehicles designed for superior ballistic and blast protection both on and off road.
Certification is an essential component in the production of high quality bulletproof glass. This requires that each batch produced is validated to prevent delamination and improve ballistic performance. For that reason, CENTIGON COLOMBIA and CARAT's full-vehicle testing includes certifications from independent laboratories, such as QinetiQ (UK), Beschussamt Mellrichstadt (Germany), Beschussamt Ulm (Germany), and ETBS Bourges.
In addition to the above, CENTIGON COLOMBIA and the Carat Group are using the facilities of the most prestigious institutes in the world for certification testing at the component level:
University of Dayton Research Institute,

German National Laboratory for ballistic testing,

HP White Labs.
Contact info #1
Commercial & Marketing Manager
Calle 21 No. 69B - 05, Bogota, Colombia
Armored Vehicles & Cars
CENTIGON COLOMBIA has developed the ability to design and build advanced armored vehicles for the transportation of valuables, for government agencies and private clients, according to the specific operating conditions of each client.

More specifically, the Company is able to provide a wide range of ballistic protection solutions depending on load and volumetric capacity, armoring levels and other engineering details of the vehicle in question, such as its center of gravity, electrical/ electronic systems, and the installed theft deterrent systems, so as to optimize vehicle safety and functionality.
Bullet Resistant Ballistic Glass
CENTIGON COLOMBIA manufactures bulletproof ballistic glass, reproducing the original characteristics of the vehicle. All bulletproof glass manufactured by CENTIGON COLOMBIA, complies with good manufacturing practices and is made of the best materials available in the market.

The development of bulletproof glass requires mastery of modern technology and certificates that ensure high quality protection. These techniques define CENTIGON COLOMBIA armored glass as a new industry standard that offers transparent armor solutions on both flat and curved glass at reasonable costs and timely delivery.
After sales Services
CENTIGON COLOMBIA's technicians travel worldwide to provide solutions where needed. With the best warranty against manufacturing defects and 3-year extended warranty, the Company ensures investment protection.
Engineering Team & Equipment
Each year, CENTIGON COLOMBIA teams conduct hundreds of ballistic tests to understand exactly how different solutions perform against different threats. By constantly analyzing threats and hostile force tactics, the Company is able to ensure suitable countermeasures are always in place.

CENTIGON's development team has access to the same 3D applications (CATIA) as the OEMs use, providing unparalleled fit and finish, when integrating armored components. Other advanced technology, such as the Metris K-Scan MMD 3D scanner, helps cut development time significantly, while improving product appearance and road stability.

With the largest research and development team in the industry, the Carat Group and CENTIGON COLOMBIA can rapidly develop solutions to changing environments, including the continued threat of improvised explosive devices (IEDs).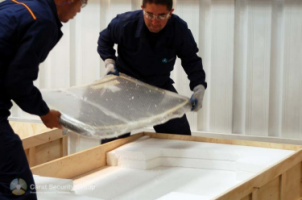 OEM Guarantee
The proven ability to work with major OEM providers around the world sets CENTIGON apart from other armored vehicle providers. CENTIGON works closely with OEM manufacturers and its engineering team is well versed in the details of selecting, designing and manufacturing a vehicle that meets customer needs, while still maintaining the comfort and convenience found in a non-armored vehicle.
Centigon COLOMBIA
Calle 21 No. 69B 05, Bogota, Colombia
+57 1 405 1414
contact@centigon.com