Last Update
September 13, 2016
Categories
Electrical, Electronics & Electro-optics
Engines, Propulsion, Power Generation
Mechanical, Electro-mechanical, Hydraulic and Pneumatic components
Services (R&D, training, engineering, consultancy, …)
The United Service Institution of India – USI, is an autonomous institution founded in 1870 to conduct enquiry, research & analyses of national & international security-related issues. USI conducts simulation exercises & courses for the armed forces. Publishes a quarterly journal; has 15,000 members.
USI Charter
The Armed Forces leadership of today demands a quality of professionalism that can only come with education and informed opinion on various aspects of national security, international relations, defence strategy, management of the economy of the country, social issues, internal security problems, and appropriate interaction with other sections of society in the country at various levels. The Charter builds on the initial founding aim of "furtherance of interest and knowledge in the art, science and literature of the defence services", and is as follows:
The maintenance of a reference and lending library, containing works of professional interest, and a reading room with a wide range of periodicals.

The publication of a quarterly journal and papers on topics related to National Security.

The custody of pictures, medals, trophies or any other item relating to the Defence Services presented to or purchased by the Institution.

The organising of lectures, discussions, seminars, conferences and courses of instruction, including correspondence courses, relating to the Defence Services and National Security.

Other activities which promote the object of the Institution, such as research studies. Three centres have been set up under the aegis of the Institution. One for strategic studies and simulation on issues of national and international security, a second for Armed Forces Historical Research, and a third for United Nations Peacekeeping.

Maintaining close touch with other bodies pursuing similar or allied aims.
History
The United Service Institution of India was founded in 1870 by a soldier scholar, Colonel (later Major General) Sir Charles MacGregor. The story of its growth is the story of the growth of the Indian Armed Forces. It was founded for 'furtherance of interest and knowledge in the art, science and literature of the Defence Services'. First housed in the old Town Hall at Shimla, in the foot hills of the Himalayas, the Institution moved to the then Army Headquarters. In 1908 its own building was erected at a cost of Rs. 26,000/- near Cumbermere Post Office in the Shimla Hills. As the partition of the sub continent approached, the Council decided that the USI and its Journal should continue as before; but that was not to be. Four issues of the Journal (January, April, July and October 1948) did go out as that of the United Service Institution of India and Pakistan, with flags of both the countries on the cover. In the event, the Institution remained a purely Indian one.
The post Independence years were financially a testing time for the Institution. The property in Shimla had to be sold off for Rs. 18,000/- and the Institution was moved to Delhi in 1953, where it was located, till mid 1996, in Kashmir House on Rajaji Marg (the premises of the Engineer-in-Chief's Branch, among others). Notwithstanding the difficulties, the Institution pulled through by the sheer dedication and selflessness of the then Secretary, Colonel Pyara Lal, who managed it from 1957 to 1987. Amongst the distinguished officers who have been the Secretary, the name of Field Marshal W J Slim, MC stands out (early thirties). Since 1987, the designation of the Secretary has been changed to that of Director. Major General S C Sinha, PVSM (Retd) was the Director from November 1987 to 30 June 1996. Lt Gen Satish Nambiar PVSM, AVSM, VrC (Retd) was the Director from 01 July 1996 to 31 Dec 2008.
The foundation stone for the new premises was laid on 26 April 1993 by the then Chief of the Army Staff and Chairman, Chiefs of Staff Committee, General S F Rodrigues, PVSM, VSM, ADC, in the presence of the then Chief of the Naval Staff, Admiral L Ramdas, PVSM, AVSM, VrC, VSM, ADC and Chief of the Air Staff, Air Chief Marshal N C Suri, PVSM, AVSM, VM, ADC.
Lieutenant General P K Singh, PVSM, AVSM, (Retd), Former GOC-in-C South Western Commanded assumed Charge as Director on 01 Jan 2009.
The Institution began with a membership of 215 members. When it moved to its present premises, the number stood at about 3500, and as on 30 Sep 2014, it was 14,200.
Courses Programme
USI courses were started in 1957 and are conducted to prepare officers for promotion examinations, Technical Staff College and Defence Services Staff College entrance examinations for Army and Navy. Only members can take up these courses. Every year, a large number of officers take up these courses and do very well in the actual examinations. The details of the courses and the tuition fees are as under :
Correspondence Courses
DSSC (ARMY): Commences end Nov. syllabus covered in five question papers. Additional papers are set for contact programmes. All six subjects covered. Cost Rs 4300/-.

DSSC (NAVY): Commences end Dec. Only Paper 1 covered consisting of Current Affairs, Military/Naval History and Maritime Strategy. Cost Rs 700/-.

TSOC (ARMY): Commences end Nov. Now consists of same subjects as DSSC (ARMY) less Tactics 'B'. Cost Rs 3500/-.

PART D: Commences mid Apr. Cost for five subjects is Rs 2700/-. Special to Corps papers are not covered by the USI.

PART B: Commences 2nd week Dec. Cost for five subjects is Rs 2300/-.
Contact Programmes
These are run for DSSC (ARMY) only. The number run may be three to four depending on the demand. The purpose of these is to give final touches to the officers preparations and to develop confidence.
Centre for Strategic Studies & Simulation (CS3)
With the endorsement of the Chiefs of Staff Committee the USI Council approved the establishment of the USI Centre for Strategic Studies and Simulation from 01 January 2005. The earlier Centre for Research, which was established in 1995, and its resources stand merged in the new Centre (USI-CS3). The new Centre aims at conducting comprehensive enquiry, research and analyses on national and international security issues, and gaming and simulation of strategic scenarios, to evolve options for wider discussion and consideration.
Aims and Objectives
The following shall be the aims and objectives of the Centre:
Undertake military oriented studies and research with a view to providing well-researched and reasoned military perspectives that are contributory to national security strategy formulation.

Area of core competence of the Centre will be undertaking practical policy oriented research that takes cognizance of emerging realities of international and regional security challenges.

The Centre will also undertake studies related to contemporary military challenges, changing nature of war to include both traditional and non-traditional threats, revolution in military affairs, information warfare etc; the aim being to carry out studies, either stand-alone or in concert with Service Headquarters, that will assist in developing national military capabilities and structures in concert with national aspirations.

Another core area of activity will be to undertake simulation exercises using techniques such as scenario building, crisis gaming, politico-military gaming etc to evaluate options, efficacy of research findings or to evaluate complexities of military competition.

Undertake contractual studies that are out sourced by the Service Headquarters, DRDO, HQ IDS, MOD, MEA, MHA, and NSCS etc.

Carry out studies on behalf of industry coordination bodies such as CII, FICCI etc.

Conduct national and international seminars and conferences on important strategic issues as USI stand-alone activity or in partnership with other organisations such as national and international think tanks, inter Service/Service organisations and industrial bodies etc.

Coordinate all interaction with national and international think tanks, including activities such as conduct of round table discussions, signing of Memorandum of Understanding and exchange of scholars and visits.
Centre for Armed Forces Historical Research (CAFHR)
The Centre for Armed Forces Historical Research (CAFHR) was established in December 2000 under the aegis of the United Service Institution of India (USI) after due consultation with the three Service Headquarters. The aim of the Centre is to encourage the objective study of all facets of the history of the Indian Armed Forces. The Centre's objectives as listed in its Constitution.
Centre for United Nations Peacekeeping (CUNPK) New Delhi, India
Peacekeeping, as defined by the United Nations, is "a way to help countries torn by conflict create conditions for sustainable peace." Peacekeepers monitor and observe peace processes in post-conflict areas and assist ex-combatants in implementing the peace agreements they may have signed. Such assistance comes in many forms, including confidence-building measures, power-sharing arrangements, electoral support, strengthening the rule of law, and economic and social development. Accordingly UN peacekeepers (often referred to as Blue Helmets because of their light blue helmets) can include soldiers, civilian police officers, and other civilian personnel.
Peacekeeping operations are special operations requiring a doctrine and special techniques from a synthesis of research and experience. To fulfill this need, the Centre for United Nations Peacekeeping (CUNPK), has been set up in New Delhi, drawing on India's vast experience in the field of UN Peacekeeping. The Centre conducts International Training Capsules for Military Contingent Officers, Military Observers, and Staff and Logistics Officers. The Centre regularly organizes Seminars, Joint Working Groups and Command Post Exercises at the National and International level. CUNPK is also a repository of information on India's involvement in UN Peacekeeping and is continuing to build and update its research on peacekeeping related issues.
Since October 2005, CUNPK has taken the responsibility for the Secretariat of the International Association of Peacekeeping Training Centres (IAPTC).
A vast pool of experienced personnel, well attuned to the requirements of training, internationally developed theories, modern methods of instruction, and progressive development, are the cornerstones of the Centre.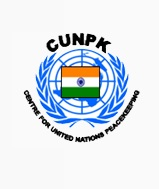 The United Service Institution of India – USI
Rao Tula Ram Marg (Opposite Signals Enclave), Post Bag No 8, Vasant Vihar PO, 110 057, New Delhi , India
+91 11 2614 6755/56 
+91 11 2614 9773
cs3@usiofindia.org