Last Update
August 2, 2018
Categories
Maintenance Repair Overhaul and Logistics Support
Metal Processing, Parts & Components
Ships, Vessels, Submarines & related equipment
The State Enterprise Shipyard Named After 61 Communards, part of the larger state concern Ukroboronprom, is a major shipyard that specialises in ship production. The total area of the enterprise is 1,414.5 thousand square metres, with a building up area of 476.5 thousand square metres. Production capacities of the enterprise are concentrated in 286 industrial buildings and 165 industrial structures.
Production capacities (without enlisting contractor) consist of pipe machining, mechanical mounting, electrical engineering, paint and insulation, woodworking and machine building workshops are involved in the process of shipbuilding and ship repair.
Technological and organisational capabilities of the shipyard allow the building of a variety of contemporary, highly efficient and reliable vessels with hull weights of up to 28,000 tonnes. Hulls construction is made on three building berths with partial installation and the mounting of equipment and machinery simultaneously.
Besides shipbuilding, the plant carries out ship repairing (as mentioned above), production of ship articles, general purpose industrial and special (licensed articles for nuclear power stations) machinery building. A complete list of the type of naval vessels the shipyard manufactures can be found below:
Cruisers
Kronshtadt-class battle cruiser: 1 (along with Admiralty Shipyard)
Kara-class cruiser: 7 (whole class)
Slava-class cruiser: 4 (whole class)
Destroyers
Skoryy-class destroyer: 18 (all names started with B)
Submarines
Shchuka-class submarine, Series V-modified: 3
Shchuka-class submarine, Series V-modified-2: 4
Shchuka-class submarine, Series X: 8
Significant partners of the enterprise are the Bergen, Havyard, Vopak, Delta-Pilot companies.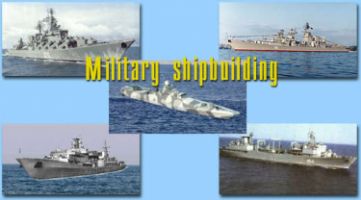 Shipyard Named After 61 Communards
38, Admiralskaya Str., 54001, Mykolaiv, Ukraine
+38 (0512) 67 00 92
+38 (0512) 67 00 93
info@shipyard61.com.ua