Last Update
August 23, 2018
Categories
Mechanical, Electro-mechanical, Hydraulic and Pneumatic components
Metal Processing, Parts & Components
Services (R&D, training, engineering, consultancy, …)
Drawing upon expertise that they have developed for almost 50 years, Chinn Engineering Ltd. delivers turnkey solutions encompassing the design, prototyping and manufacturing of test rigs and heavy fabricated structures.
Chinn Engineering Ltd is a member of the Nasmyth Group of companies that deliver uniquely integrated precision engineering solutions. They specialise in complex and load bearing structures for demanding applications and can produce assemblies in a range of advanced materials.
Engineering - Chinn Engineering work closely with customers to achieve an optimised solution that meets performance, manufacturability, cost and all other criteria of the specification. They offer a full turnkey package which can include design or design for manufacture, prototype, development, experimental & simulator products and testing (in-house and third party) leading to the production stage.
Project Management - In today's demanding market Chinn Engineering utilises industry standard project management tools and techniques to fully satisfy project and programme requirements. The company sees this as a major factor in controlling and achieving key project milestones to ensure on-time, in-budget delivery. This process is managed through a dedicated single point of contact.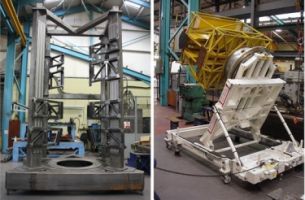 Chinn Engineering Ltd
Coventry Road, Coventry, CV7 9FT, Exhall, United Kingdom
024 7636 9429
enquiries@nasmythgroup.com