Categories
Military, Tactical, Logistic Support Vehicles & related equipment
Engines, Propulsion, Power Generation
IT, Computing and Software
Mechanical, Electro-mechanical, Hydraulic and Pneumatic components
Metal Processing, Parts & Components
Ballistic Protection
CMI designs, installs, upgrades and services equipment for energy, defense, steel-making, the environment and other industry in general. CMI assists clients throughout the whole of the life-cycle of their equipment in order to improve the economic, technical and environmental performance of this equipment.
CMI offers a unique combination of expertise in engineering, maintenance and the management of international technical projects, a vast geographic and technological scope and an ability to innovate in accordance with the concrete needs of its customers.
CMI employs 4,500 people in Africa, Brazil, China, Europe, India, New Caledonia, Russia and the United States.
CMI DEFENCE - Cockerill™, the authority for integrated weapon systems on highly mobile armored vehicles.
CMI Defence is a belgian technological leader in multifunctional, high-effect weapon systems for light and medium weight armored vehicles. Independent from any and all vehicle manufacturers, CMI Defence: designs and integrates gun turret systems for the entire 20 mm to 120 mm caliber range; provides customized technical and training assistance as well as innovative solutions relating to its weapon systems to improve their use and operational efficiency (gun-launched anti-tank guided missiles; gunnery and tactical training simulation systems; provision of related services to optimize the integrated logistics of armed forces: support, training, maintenance, upgrading, documentation, spare parts, tools, etc.)
This entire offer benefits from the cutting edge expertise of the CMI Defence teams in software, ballistic and mechatronic engineering.
Incarnating the very essence of the Cockerill™ brand, CMI weapon systems combine highly effective fire power with light weight to guarantee performance, mobility and protection for the crew. The Cockerill™ systems are modular and designed so that they can be upgraded to keep pace with the needs of their users, at moderate cost.
The innovative strength of CMI Defence anticipates the growing needs for versatility on the part of highly mobile armies. Its teams are constantly developing new solutions to improve the use of Cockerill™ systems throughout their life-cycle.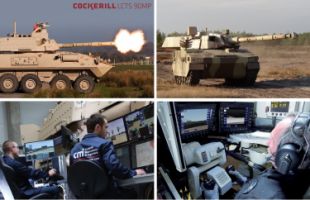 CMI Group
Avenue Greiner 1, 4100, Seraing, Belgium
+3243302444
+3243302582
welcome@cmigroupe.com