Last Update
September 7, 2018
Categories
C4I, Communication Systems
Electrical, Electronics & Electro-optics
Defence Communications Industry (DCI) is an Australian company specialising in the design and development of niche communications equipment for the defence and the disaster recovery market.
Established in 1999, DCI collaborated closely with the Royal Australian Signals Corps in designing a portable communications system for voice and data links that use copper wire (DON10 or WD1A/TT) - as a simple and effective alternative to fragile fibre-optic based datalinks.
The result is now operationally proven, widely used general purpose C4I data and voice links system - that is setting new standards in tactical data links - and that is equally of value in industrial and emergency applications - wherever flexible, rapidly deployable comms are of essence.
The company owns several patents to its designs, manufactures locally and in addition provides expert product training and technical support.
DCI alliances with major Defence Industry partners can deliver a total solution in Field Deployed Logistics Management (as used by the Australian Army - FLMS and where DCI equipment plays integral role).
As an active AFCEA member (Armed Forces Communications and Electronics Association), the company has contributed papers at many specialty industry forums in Australia and internationally.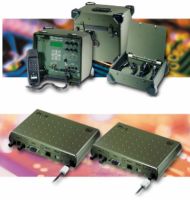 Defence Communications Industry
37 Prentice St., Victoria, 3185, Elsternwick, Melbourne, Australia
+61395239211
Dinah.Shields@defence-comms.org