Last Update
September 13, 2018
Categories
Electrical, Electronics & Electro-optics
In 1993, Jacques Gouffaux and Alain Paulus, two experts from the X-Ray generation field, spotted a gap in the market. They realized that the X-Ray world was clearly missing quality, light and effective portable X-Ray generators that could benefit a wide variety of users. During the next two years, they worked on designing and producing the first ever-portable X-Ray generator – The SITEX C3003. What was a small company back then which was built from the ground up, ICM (Industrial Control Machine) is now the world leader in terms of portable X-Ray generators for the NDT (Non Destructive Testing) market and a major player in the EOD's Security niche.
On the back of a portfolio that counts more than 30 different products, including the now well-known SITEX and SITEX CP ranges, as well as the security detectors FLATSCAN, ICM continues to grow year upon year. Since their inception we have recorded an average annual growth of 20%. In 2015 the company became a member of Teledyne Technologies Inc. (NYSE:TDY).
NDT Applications
Non-Destructive testing and analyzing objects without adversely affecting them can be achieved by using different techniques such as ultrasonic, liquid penetrating and remote visual inspection methods. However, there is one technique that is superior to all of the others in terms of image quality and cost efficiency. That technique is radiology.
Discovered as long ago as 1895, X-Ray radiations quickly became the preferred approach to inspection for medical use and this was subsequently extended to industrial analysis. After a short time, the need to move the technology from the lab to the field quickly became increasingly important and this led to the development of portable X-Ray generators.
ICM has more than 20 years of experience and expertise that has been fully dedicated to portable X-Ray solutions. Nowadays, this experience is used throughout a wide range of applications, covering inspections of welded pipelines, gas boilers and ship parts to examinations of lighter alloys, such as aluminum and composite materials that are used in the aerospace industry.
SECURITY Applications
ICM has more than 20 years of expertise dedicated to portable X-ray solutions. Nowadays, this expertise is applied throughout a wide number of applications, ranging from the quick X-Ray scanning of suspected improvised explosive devices to the inspection of lost baggage at airports or the scanning of car tanks at border controls. Having been developed both for and in collaboration with bomb squad teams, the FLATSCAN15 and FLATSCAN30 incorporate the requisite characteristics to work quickly and accurately in any kind of environment.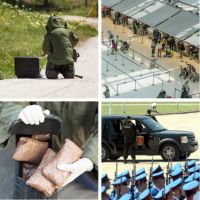 Industrial Control Machines (ICM)
Zoning Les Plenesses, Rue Du Progrès 3 B-4821 Andrimont , Dison, Belgium
+3287440150
+3287440160
icm.sales@teledyne.com