Last Update
October 24, 2016
Categories
C4I, Communication Systems
Counter-measures, Electronic Warfare and Decoys
Electrical, Electronics & Electro-optics
Military, Tactical, Logistic Support Vehicles & related equipment
Services (R&D, training, engineering, consultancy, …)
Weapons & Ammunition
KIG, has been established to act as the commercial and investment arm for the King Abdullah II Design and Development Bureau (KADDB) and its affiliates. The Group aims at establishing new and growing businesses in the defence and security industries along with various services that would complement these industries.
The scope of work covered by the Group's affiliates is represented in business clusters; Automotive and Industrial Cluster, Troops Products Cluster, Electronics and Electro-Optics Cluster, Arms and Ammunition Cluster, as well as a Supplementary Cluster.
KIG's competences have gained the Group a proven track record and high profile worldwide as a reliable and credible partner.
Investors would enjoy a high level of marketing exposure, accessibility to a wide range of research and industrial capabilities, provision of land and facilities through a purpose-built free industrial zone, as well as contribution to working capital and facilitating all logistics and procedures.
In a short period of time, KIG managed to place itself on the world map, not only being active in the Middle East and North Africa, but by reaching Europe, the Americas, Southeast and Central Asia and the rest of Africa.
KIG coordinates all business-related activities by having its qualified team evaluate an opportunity all the way to realising its full potential, as well as develop the current businesses through effective implementation of business development, marketing, communications and operational excellence activities, in addition to enhancing the Group's corporate image.
The Group focuses on its market outreach through implementing effective strategies to satisfy the client and investor needs and enhance the performance of the Group.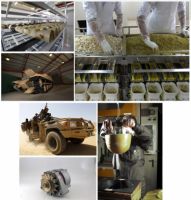 KADDB Investment Group (KIG)
King Abdullah II Design & Development Bureau KADDB, Al Hussein Bin Ali St 16, 11184, Amman, Jordan
+962 64603230
+962 64603235
info@kaddbinvest.com