Last Update
September 13, 2018
Categories
C4I, Communication Systems
Electrical, Electronics & Electro-optics
Metal Processing, Parts & Components
Radar, Sonar, Navigation, Targeting, Surveillance
KS SYSTEM CO. LTD., brings together the best young talent in machining and assembly application in valves and the production of precision parts.
Emphasizing on human resources, technology, quality aspects, and business philosophy based management, the Company's vision is to become the world's best company in its field.
KS SYSTEM covers an area of 15,875 square feet that includes large assembly systems for the defense industry and a highly skilled workforce serving the LCD equipment and semiconductor industry in custom parts manufacture.
The management system concentrates on the development of the national and international business to increase competitiveness in the global market. The Company does its best to contribute to the satisfaction of its customers as well as employees.
KS SYSTEMS contributes to the field of C4I, customizing console and communication shelters as per customers' requirements and design specifications.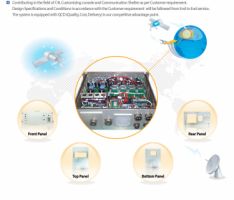 KS System Co. Ltd.
817-37 Seobongro, Jungnam-myeon, Gyeonggi-do, Hwaseong-si, Korea, South
+82 31 359 9311
+82-31-359-1920