Last Update
August 22, 2018
Categories
Electrical, Electronics & Electro-optics
Mechanical, Electro-mechanical, Hydraulic and Pneumatic components
Training & Simulation
MSE Engineering AB provides highly qualified system solutions to international defence organizations and to leading industrial companies. With high competence, innovation spirit and creativity, the company develops and manufactures simulators for top performance.
Military Training Equipment - The platform and the hardware for simulators and other training devices is the company's specialty. They supply customers with everything from a single button to the complete environment like a simulated tank-turret. By acquisition of the firm JL Weibull MSE Engineering has increased their knowhow in training equipment and simulators. Since 50 years the firm JL Weibull is an established firm and specialized in trainers.
Civilian Training and Simulation Systems - MSE is a preferred partner for intelligent simulator hardware in the segment of training and research simulation for use in civilian transportation.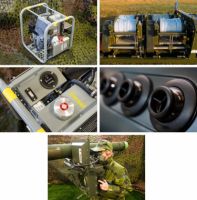 MSE Engineering AB
Baldersgatan 9, SE-343 31, Almhult, Sweden
+4647655950
+4647655951
support@mseab.se