Categories
Mechanical, Electro-mechanical, Hydraulic and Pneumatic components
Metal Processing, Parts & Components
Maintenance Repair Overhaul and Logistics Support
PNEUMATIK FLEX was founded in 1970 and focuses on the manufacturing and overhaul for hydraulic and pneumatic equipment. At the beginning the company dealt only with flexible and solid pipes and hoses for conveying fluids (liquids, gases, powdery and semi soft materials). Through the years PNEUMATIK FLEX has extended its capabilities and today it provides planning, design, manufacture, sale and overhaul of hydraulic and pneumatic systems (pumps, hydro-motors, valves, cylinders, accumulators, aggregates, etc.) and flexible hoses with couplings of all types and applications.
The company is ISO 9001:2000 certified by TÜV SÜD. Apart from the approval to work with military institutes PNEUMATIK FLEX also cooperate with the FTN (Faculty for Technical Sciences) in Novi Sad.
The company is local distributer for PARKER, one of the leading companies in the world for hydraulic and pneumatic components.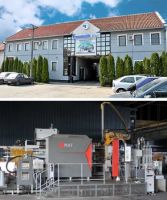 PNEUMATIK FLEX
Kralja Petra I Karađorđevića br. 84, 22330, Nova Pazova, Serbia
+38122321510
+38122323156
info@pneumatik-flex.rs