Last Update
September 14, 2016
Categories
Metal Processing, Parts & Components
Sener Automotive Spare Part Machine Industry and Commerce Inc. (Şener Otomotiv Yedek Parça Makine Sanayi ve Ticaret Ltd. Şti.), was founded in 1983 in Balat Neighbor of Istanbul to serve the automotive and defense sectors and today it continues its production in their factory in İkitelli having a closed area of 2500 m2. As of 2010, the production is carried out also in their branch in Adapazarı.
Sener Automotive expertise is in metal cutting, welded construction and sheet metal bending production. The company is ISO 9001:2008, ISO/TS 16949:2009, ISO 14001:2004 and OHSAS 18001:2007 certified.
Metal Machining - Sener Automotive makes a production close to 2500 pieces as the metal cutting production. The products list includes: pulleys, shafts, hinge groups, bushing, special screws, brackets, brass sleeves, valves, seat groups with mechanism, flanges, tension pulley groups, fan pulley groups.
Casting Production - The company's casting part group production is close to 350 pieces. Some of the products they provide are: pulleys, flywheel housings, clutching housings, traction brackets, and compressor brackets.
Welded Metal Plate Production - Sener Automotive has a piece production close to 400 units as welded and chipless metal plate piece. Within this group, parts such as plate washers, engine brackets, adjust metal plate completes, hinges, and pedal complete and a lot of other part production are included.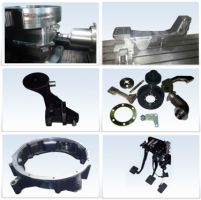 Sener Automotive Spare Part Machine Industry and Commerce
İkitelli Organize Sanayi Bölgesi Metal İş Küçük Sanayi Sitesi 5. Blok 11 - 13 - 15 - 17 İkitelli - Başakşehir, Istanbul, Turkey
+902126717580
+902126717585
info@senerotomotiv.com.tr