Last Update
October 14, 2016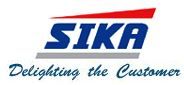 Categories
Aircraft, Helicopter, UAV, Spacecraft & related equipment
Electrical, Electronics & Electro-optics
Maintenance Repair Overhaul and Logistics Support
Mechanical, Electro-mechanical, Hydraulic and Pneumatic components
Ships, Vessels, Submarines & related equipment
SIKA INTERPLANT SYSTEMS LTD. is a Public Listed ISO 9001 Engineering Company in Projects, Systems, Products and Engineering Services for Aerospace, Space, Marine, Automotive and Core Industries.
SIKA has offices in Bangalore CBD and manufacturing facilities on Hosur Road, Bangalore. SIKA has offices at Mumbai, Kochi and representatives in other major Cities.
SIKA has an experienced and dynamic team and it values the team.
SIKA in addition to in-house capabilities in Design, Development & Manufacturing has tie-ups with International reputed companies to offer advanced technology solutions competitively. SIKA in its quest for growth seeks tie-ups with International companies via Joint Venture / Work share / Project Partnerships to cater to the upcoming business opportunities.
SIKA is innovative and entrepreneurial to constantly create value for its shareholders while meeting the expectations of all stakeholders.
SIKA is expanding its operational base to keep pace with the developing techno-economic global scenario.
Sika Interplant Systems Ltd.
3 Gangadhar Chetty Road, Bangalore, India
+91 804 929 9144
+91 802 559 9501
sales.ae@sikaglobal.com