Last Update
October 14, 2016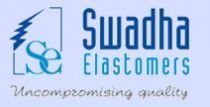 Categories
Composites, Plastics & Rubber
Metal Processing, Parts & Components
SWADHA ELASTOMERS PVT. LTD. has been a reputed brand in Uninyvin cables since 1989. An envious combinations, of stringent quality-policy, sophisticated technology, qualified and experienced engineers, dedicated channel-partners and, of course, the unstinted support of its loyal customers, has, continually, given them a winning edge in the race for the top spot in the cable industry.
Located in an area of 6,000 sq.ft., in the heart of the city, the Company has all facilities from testing to wrapping up the finished product ready for delivery. The Company's R&D department, continually, monitors the latest developments in the field in order to keep pace with technology.
The Company's team of qualified and experienced engineers is always on the standby to attend to any technical problems faced by its clients. Its infrastructure is further strengthened by the able support of its channel partners like dealers and transporters.
If there is one name to reckon with in the cable industry, It is SWADHA ELASTOMERS, an ISO 9001:2000 company, established in 1989.Since then, this oldest brand is also becoming a fast-growing one in this sector. The reasons are not far to seek. A highly experienced and qualified team working on a range of sophisticated imported machinery with the latest technology under the guidance of a professional management cannot but produce the best in cables.
Ading to this is the advantage of an efficient network of sales and service partners spread over various states in the country. Its stringent quality-policy ensures similes even in hard-to-please customers. Its products pass through all tests mandated by BIS and BSG.
When you buy Swadha cables, you can be rest assured that you are purchasing safety, quality and durability.
Swadha Elastomers Pvt. Ltd.
#65, New Timber Yard Layout Mysore Road, Bangalore, India
+91 802 675 9474
+91 802 675 9474
info@swadha.co.in