Last Update
October 14, 2016
Categories
Other Aerospace, Defence and High Technology related companies
Textile, Individual Equipment, Clothing
Weapons & Ammunition
Since 1951 SYNDICATE ARMOURY is a Division of Indian Handycrafts & Textiles Syndicate and specializes in production and export of Hand Forged Swords, Axes, Tomahawks, Polearms, Armours, Chainmails and other replica weapons of Medieval and Renaissance eras. All items are handmade by Artists and Craftsmen.
The Company's determination to provide the best quality products at the most competitive prices makes it imperative for us to take strict quality control measures.
The Company has been exporting its armoury items to the USA, Canada, The U.K., France, Sweden, Israel, New Zealand and Australia.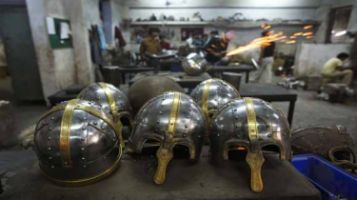 Syndicate Armoury
Gulab Bhavan, G-365, Preet Vihar, New Delhi, India
+91 991 055 4080
N/A
ashok@syndicate-group.com